I go to the top of Mt. San Gorgonio every year. This year Emily decided to join me. She had never been backpacking in her life. The last time I went camping with her as I remember was when see was about 6 years old. That is about 20 years ago.
We got everything packed over the course of a couple of days and were ready to head out on Friday afternoon. We only had one stop on our way to the trailhead, Subway. I have this thing for carrying a subway sandwich up about three thousand feet over the course of more five miles. More on that later and yes we did make it to the trailhead about three and there was a nice gentleman getting off the trail hat took our picture.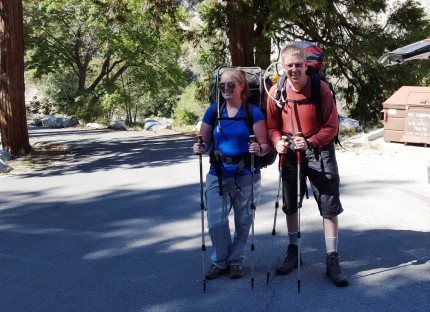 We hiked up the side of the Mill Creek drainage about three quarters of a mile until we got to the place the trail crossed the drainage. It had rained hard in the area in the previous week and a half and they had a flash flood go through the area. You could see evidence of the flood. however, there was no water to be seen.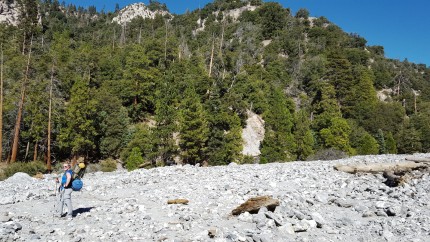 Next we hiked up the part of the trail with the greatest elevation gain in the shortest amount of time. The side of the mountain was extremely steep and the switchbacks were steep as well. I am guessing it was about a thousand feet of elevation gain in about three quarters of a mile. After that the trail flattens out a bit and it is green. There is even water.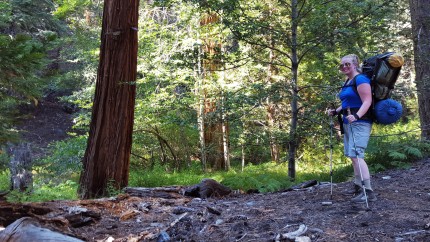 From that point we had a a gentler upward climb on the trail. Then we had some more switchbacks and a little more climbing. The day was wearing long on us and the sun was getting low in the sky. We wanted to make it to our camping place before sun down. However, it was not looking like we would. The light was getting that golden orange color.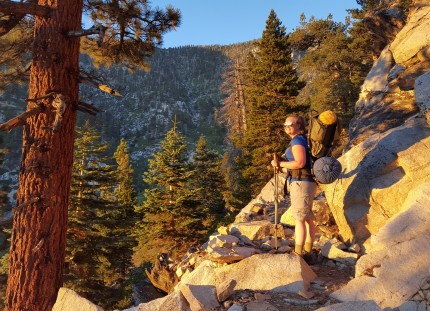 We continued on up the trail. We were getting to a spot were we were going to be east of the setting sun and not be able to see it go down. However much we hurried, the sun just moved lower in the sky.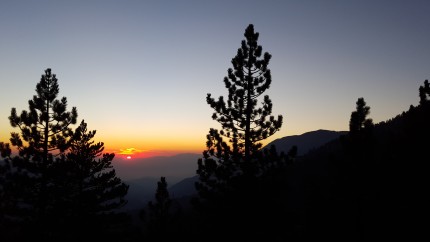 There was a little light as we made it to where we were going to camp at High Creek. Then again as I think, as we began to eat, there was only moonlight. The sandwich was good. Then it was time to set up the tent and get everything in the bear container. Emily was getting cold so the priority was getting the tent set up and getting her in her sleeping bag where she could war up. I was in my shorts and a windbreaker and was slightly chilled. She was in her coat and still chilled.
Later that night I pooped my head out of the tent to look at the sky. The moon has moved on and the sky was brilliant with stars. The milky way was definitely milky with stars.
The next morning seemed to come early. I got up and went to High Creek to get water. I got three liters for each of us. We then packed for the trip up to the peak. I discovered that we had left some food in Emily's pack. A snack bar and a protein bar both had some small teeth marks on them. We laughed that it was good that it was not a bear. Soon enough we started our climb from High Creek up to the ridge which we followed northerly towards a trail junction with the Dollar Lake trail.
Emily told me to go ahead. I told her that at the first trail junction, go right and then at the second, go left. When I made it to the trail junction, it was more like go left or straight rather than right. I drew a big arrow on the trail for her and I continued to hike on.
As I got pas the second trail sign I watched for her. I saw her headed toward my direction. She looked a little lower that she should have been. I did not think the trail was that low. I yelled for her and waived my arms. It did not look like she saw me. Come to find out she got to the trail sign and headed right with the trail she should have followed was going straight and the trail she did not see was off to the left, so far left it looks like it is going backwards. She was lower than the trail headed east towards the taller peaks that she could see. Of course there is not much vegetation so as she got out into a clear area, she saw the second sign uphill and to the north of her.
She found the trail and I could see her again. She ran into some other hikers that were ahead of us and was glad to see them. I then yelled from where I wad, "my baby girl" and she turned and looked. This time she saw me. As we discussed, if I expect her to see me I need to wear something other than grey and white wile on top of a grey mountain.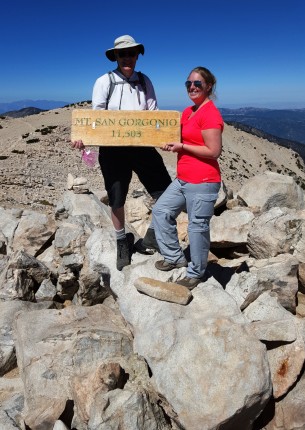 We got to the tip of the mountain, 11,503 and soon enough it was time to head back down. It was a nice trip down. It was getting warmer and we could not wait to get back into the trees.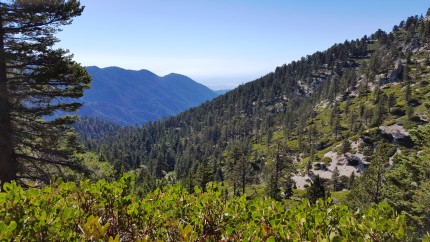 We made it back to the Vivian Creek camping area were it was greener. It was a nice relief due to the fact as we got lower in elevation we could feel the heat as it was a hot day in the valley below.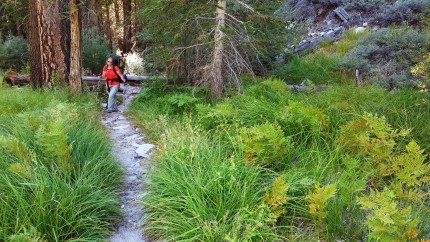 Of course there was the obligatory stop for a picture in front of a very large incense cedar that survived a fire many years before. I tried to find out when the fire went through that area and it seems that it may be more than a hundred years ago.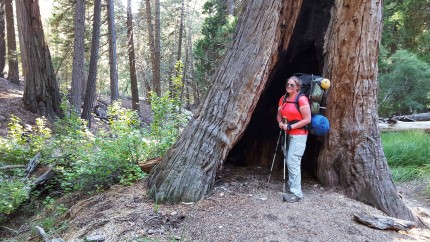 We made it back to the car about six in the evening. The area was busy with people enjoying the cooler mountain air. We were glad to be back to civilization. It was a great trip.
---
related post