It was time for the July Operation On-Target and due to a large fire that closed the trailhead that I normally use, I chose a different mountain. I also had the opportunity to take my nephew Corry along.
We started little later than I wanted so did not stop for lunch. We did stop at Subway for sandwiches for dinner. We arrived at the Palm Springs tramway, purchased our tickets and waited to head up the mountain.
Once we arrived at the upper tram station we headed down into the Long Valley and off to the rangers station to check in. That was something new as I am used to getting a permit and showing up at the trailhead. I guess with the tram they want people to check in and out to make sure no one gets lost and left out in the forest to fend for themselves.
After checking in we headed to the area where we were to camp for the evening. While hiking up the trail I asked Corry if he was hungry. He said that he was and that he thought we were stopping for lunch. I explained that we left after lunch and had I known that he did not have lunch I would have got something for him. Out came some nutrition bar and I let him know that he needed to eat so that we could move on. He needed the energy.
As we were hiking along several young people (early 20's) passed us. The last person had a pinata attached to the back of their backpack. I was thinking, great, a youthful party in the wilderness with a pinata to smash as a highlight. Having not camped in Round Valley or Tamarack Valley for nearly 40 years, I could not remember how close the campsites were to each other. I was happy I brought earplugs.
We arrived at Round Valley to sign in on the grease board where we were going to camp for the night. I was happy to see the younger crowd in Round Valley as we were in Tamarack Valley. We stayed at the closed up Ranger Station in ROund Valley to eat our dinner.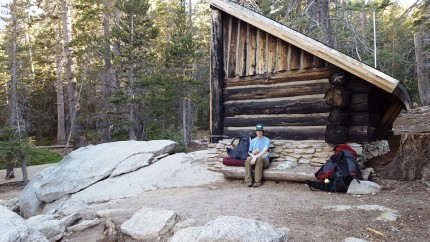 After we ate we headed to our campground. It was one of the furthest ones out. The ranger recommended two and the first one he recommended was taken so we took the second one he recommended. We arrived and set up camp among a grove of large trees.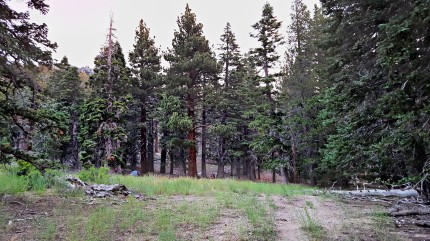 If you look closely you can see out tents being dwarfed by the large trees.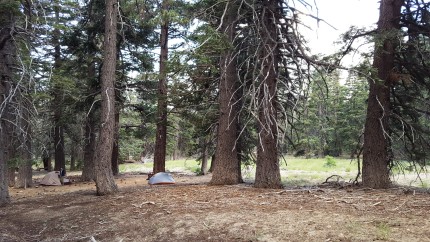 There were a few wildflowers around camp so I took a picture using my phone.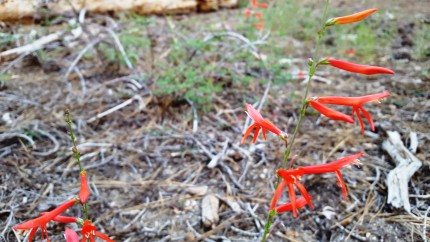 As evening was falling we played a few games of LCR which is short for Left, Center or right. It is a fun game when you have a few people to play with. For our purposes we added a player, Mr. Pinecone. We took turns rolling for Mr. Pinecone. The obvious challenge to us was that in this game of chance, Mr. Pinecone held his own and in fact won the most games out of the three of us.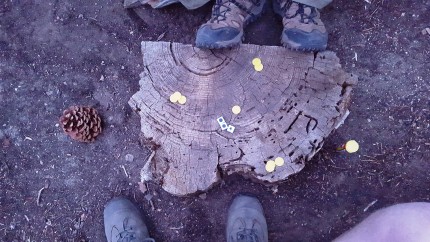 As night fell the sky was getting cloudy. When we awoke in the morning, there were several clouds in the sky. Operation On-Target requires sun to signal other mountain peaks so I was a little concerned. I thought, clouds or not, we will go to the top.
On the way up the trail, there were a few more wildflowers to take pictures of.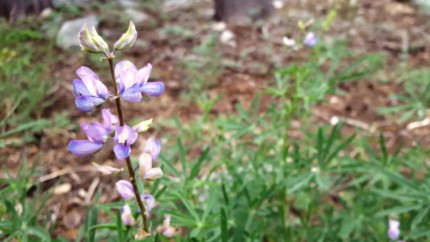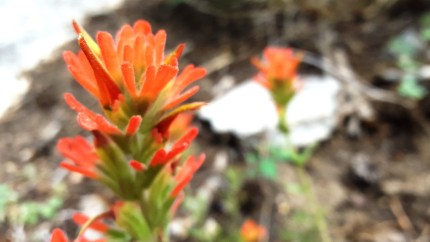 We kept hiking towards Mt. San Jacinto. I could see the clouds slide over Jean Peak and drop as they moved in an easterly direction. The wind was also blowing in an easterly direction. I was thinking that is almost at tall as Mt. San Jacinto and there will be nothing to see up there.
We made our way to Wellmans Divide and looked out to a mass of clouds. Wellmans Divide is aobut 9,700 feet up. There was a lot of moisture in the air. I decided that we needed to take out our rain gear. As we donned the rain gear it began to lightly sprinkle. Corry was taking a video of the clouds as they moved towards us and past us.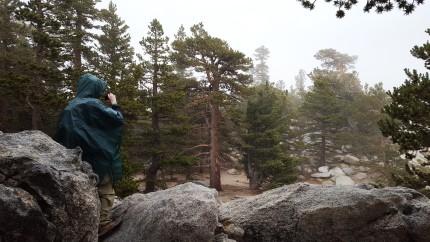 Then we heard thunder. A little more thunder. Then there was a flash and we counted, one one thousand, two one thousand, three one thousand and then the bang. Five seconds is for one mile so three is three fifths of a mile of about a half mile. I suggested that we try to get to the top of Mt. San Jacinto another day.
As we hiked back down the trail we got some mild rain. Lightning and thunder were very prevalent. You could hear a lot of thunder. A couple of times we saw the flash and only got to one one thousand before we heard the thunder.
As we made our way back to camp we saw a few people headed to the peak. As we made it back to Round Valley, we saw several people unprepared for the rain. We saw a broken pinata being carried out by a young group of people, not all of them in rain gear. It looks like their party was dampened.
We made it back to camp and packed up. We looked at the map and the trail right by where we camped looked like it lead back down to the Rangers Station. We took the trail. The rangers asked us who we had seen as we came back and we told them we came down a trial out of Tamarack Campground. We learned that the trail was the Sid Davis trail and it is not on the maps. Why, it is a little steep and not well defined. Of course I had no problem taking that path as I had taken it before in the snow with Jacob. A little water on the trail is whole lot easier than the snow.
I understand the concern of the ranger by looking at all the people getting off the tram and heading into the wilderness. Even as we were headed up to the tram station, people were purchasing cheap ponchos and raincoats at the gift shop to go explore the wilderness.
On our way down, the tram employee told us that the rain had let up and that there was a huge storm expected in a couple of hours. We that information, we know we made the best choice to get off the mountain. One could ask, how bad was the storm that was coming in? It was the same one that washed out the 10 freeway in the desert and caused flooding in other areas. Do not mess with mother nature when she is full of moisture.
The adventure was fun. It can be counted as a great trip, a learning experience and time in the outdoors.
---
related post