Elizabeth and I set out on an adventure to find some lizards. I usually carry her in a backpack on my back and really was not into that today so we sent to Sycamore Canyon Park, which is somewhat flatter than Box Springs Mountain Park. We stopped my the Ameal Moore Nature Center to get a map and then we hit the trail.
There was a lot of green grass and not many rocks. Knowing that we usually see the lizards sunning themselves on rocks, the lack of rocks created a problem. We made our way to a rocky outcropping about a half mile away from the trail head.
While there I decided to check out my geocaching app to see if there was one close by. There was one real close so Elizabeth took a seat on the rock and I started looking just below where she was sitting.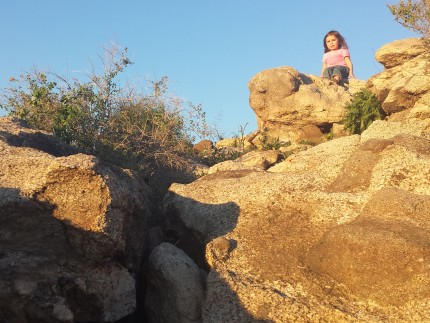 I was having trouble finding it so I brought her closer to where I was. There was a nice big rock for her to sit on again. I looked some more and was not finding the cache. I then decided to read the visitors log and found "This one sits on top of a rattle snake den. There were at least 5 to 6 skins around the base. I would only do this one in the winter and leave the children at home. It has a great view of the golf course and surrounding areas. Thanks for placing the cache. Took a bit to find, probably because of the snake pit!" Needless to say, I figured it was time to go and get away from a potential rattlesnake den down the side of the rocky outcropping. It was back up to the top of the rocks for a picture and away from the potential danger.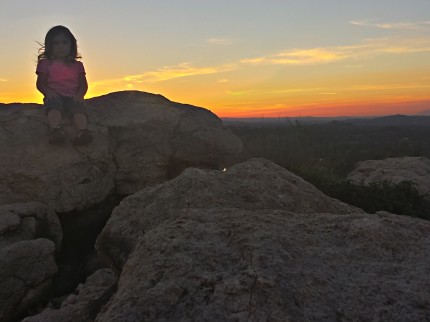 Now that I am home, I see the comment about the snakes was from 2012. We did not see any snake skins or signs of snakes. I used a stick as always to go poking around the rocks. A good friend of mine got bit on a finger by a rattlesnake last year. We both had a great time out looking for lizards. And of course watching the sun go down.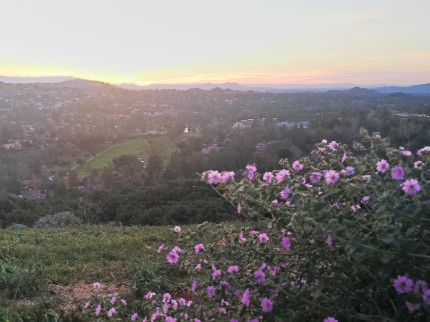 ---
related post