Last night I went to bed at the usual time for the work week even though I had the day off. The plan was to take Elizabeth on a hike with me. When she got to the house this morning it was obvious that she was tired. She did not want to go to bed last night. As it was still cool, we laid her down and she slept for half hour more. She was then up and wanted to watch Mickey Mouse Club House. After the mouse, we hit the road to go to the trailhead.
We arrived and I put her in the backpack. We made it part way up the trail and I could tell she was nodding off. I could tell when she was out because she relaxes and it seems she gets a few pounds heavier. As we reached the top of the Two Trees trail, I looked out toward the picnic spot and there were two wild burrows there. Elizabeth was out cold. There were some girls there and I asked them to take our picture. If you are asleep, you miss the wildlife.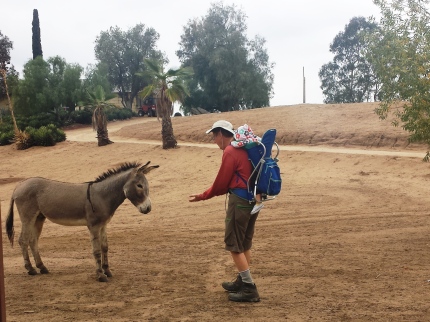 I explained that there were complaints that the baby burros seem to be disappearing. The two explanations were first, mountain lions and second people taking them because they thought there were cute. The three girls looked at each other as I had listened to their conversation several minutes ago. Obviously they thought the wild burros were cute. My response was, "Like where are you going to keep a wild burro in your apartment?" They looked at me as if I had spoiled there thought or cute wild burros with a little reality.
I continued my hike and after about an hour of sleeping, Elizabeth woke up. We talked a little and did ABC's and 123's. Once we got to one of the high points we stopped to get something to drink and give my back a rest. She wanted water and I got her water bottle out. Next she was digging for the Cliff bar. I am beginning to think one of her favorite things to do with grandpa is find a rock to sit on and eat a cliff bar.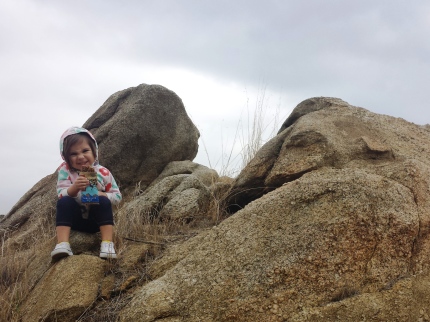 We then began to continue our hike. We stopped for a picture looking over Riverside. The clouds sure spoiled the view that was available a couple of days ago. However, it is much cooler than a couple of days ago.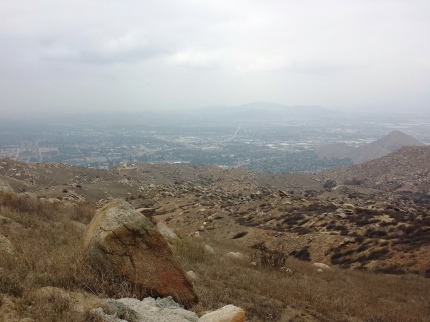 As we traveled down the trail we looked a few different flowers. I have learned that taking a picture of flowers on a cell phone guarantees one thing, the flowers will not be in focus and the ground below them will be. However, the camera will focus on my hand and then the flowers will be in focus.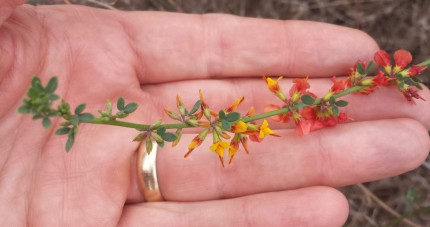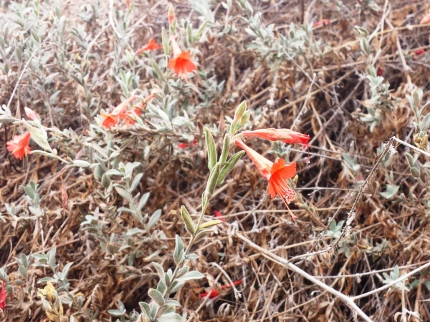 As we passed the five mile mark and I knew that we had at least a mile and a half left, we saw the burrows. We hiked toward them adding a half mile or more to our travels. Getting to them was easy as it was downhill. Of course Elizabeth thought they were cute as well.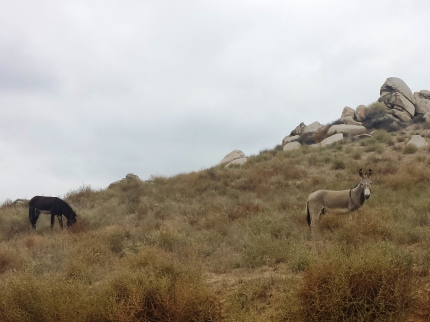 Well then we hiked back uphill to get to the trail to go back down to the truck. The hike was good. It was 7.25 miles. We missed out on seeing any lizards today. However, I bet the lizards also missed out on seeing any sun today as well. Of course that was part of our endothermic and exothermic discussion. Elizabeth has not quite got those words down yet much less their meaning. It was a fun hike and it is fun hearing her try to pronounce new words. I am just glad I did not hear, can we take the cute burro home.
---
related post