I was out for a morning hike today, I went up the Two Trees trail in fairly good time. I then headed towards the Spring Trail trail and soon enough I stopped in my tracks. I was not sure what to do. I did not see sharp teeth or claws. Just a pair of rather large mammals. I had thought of seeing video of some hunter getting stomped by an angry deer. Was I going to be safe?
As it turned out a pair of wild donkeys came up to me as I slowed to a standstill. Perhaps they were looking for a handout. You know, something for nothing. They did cause me to go home and do a little research. I have known that the wild donkeys have been in the hills east of Riverside for years. They probably got here in the 1950's when someone brought 22 burros from Death Valley to the rocky hills east of Riverside. Pretty much the middle of nowhere in the 50's.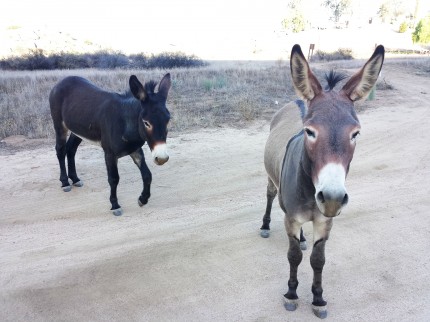 More on the donkeys at DonkeyLand Rescue. Also, in Redlands there is a place called Wild Donkey Brewing Co. I guess you can either rescue donkeys or go to the Wild Donkey Brewing Co. Either way, it is a little wilder than my typical Saturday.
---
related post