We woke up and got camp taken down fairly quickly this morning. Everyone slept better as sleeping bags had dried out and they were warmer. We also have a couple of early morning visitors.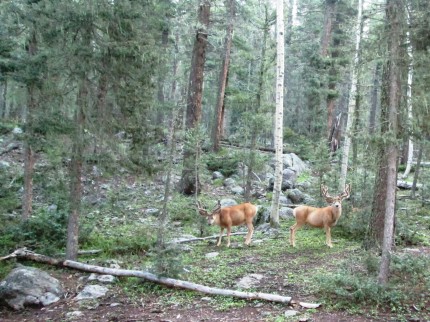 Soon enough we were on the trail. We were back to following the Rayado Creek. Our initial destination was Crooked Creek, a staffed camp with the theme of homesteading, which was a few miles away.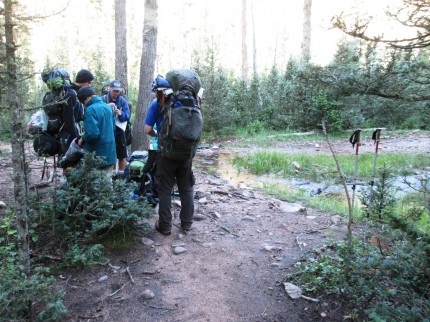 The trail was nice a scenic. The creek had become wider due to the confluence with Comanche Creek ad a few others.
Of course the trail still had plenty of moisture on it in areas.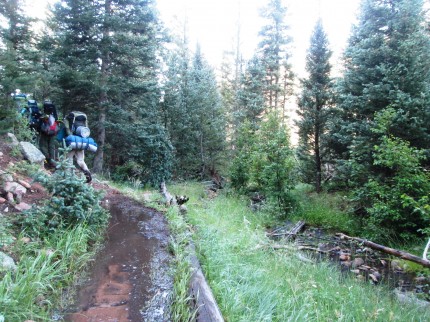 There were also plenty of wildflowers along the way.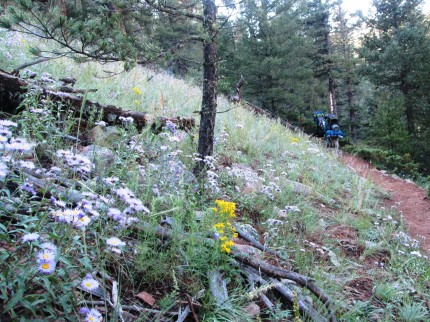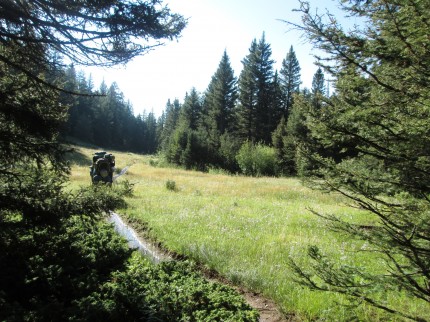 Soon we reached the place where we were to cross the creek. There was a pathway of rocks to step on to cross the creek. However, several of them were under a couple of inches of water.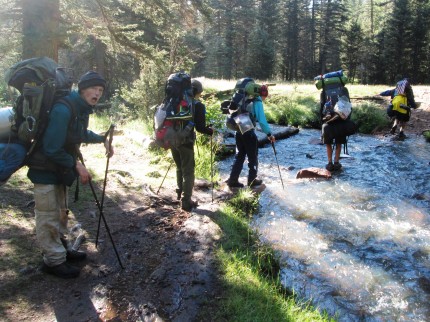 Once we arrived at Crooked Creek, there were some activities to do. We put out the solar panels to collect some photons and the young men tried out the swing. A few of us took a tour of the cabin. I learned about the courting candle holder, an adjustable candlestick holder. The young man can stay as long as the candle is above the top spiral of the candle holder. It seemed that dad set the time by how high the candle started above the top spiral.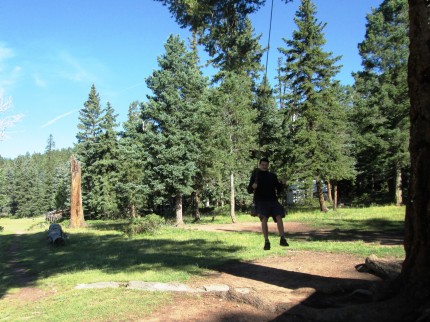 Other activities included visiting with a couple of burrows.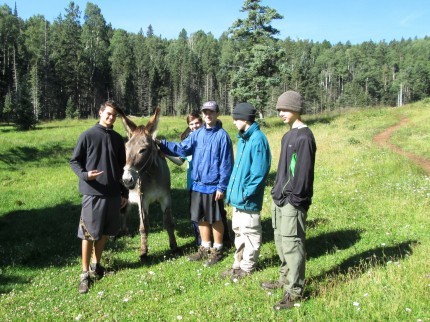 There was the cow touching event. We were told at our porch talk that the caw as not friendly and that she may try to head butt a person. They did milk the cow everyday so it did have human contact. It was that the cow was just a little unfriendly. With that in mind, one young man decided to touch the cow. He slowly moved up to the side of the cow and reached out and touched the cow on the shoulder. The cow quickly turned to the young man as he had jumped when the cow turned, he was soon enough running away.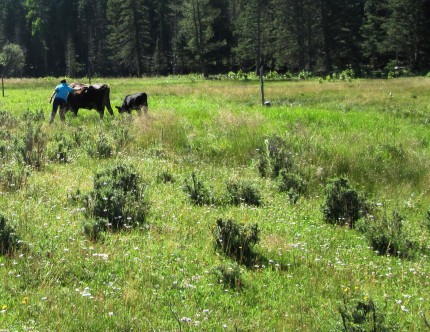 Of course there was more chicken holding as well.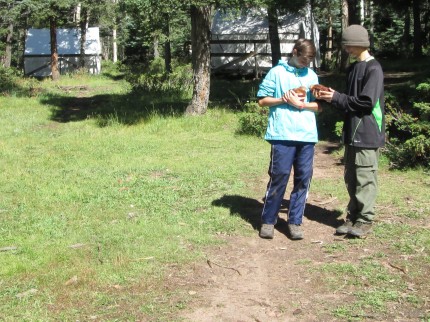 Soon enough we were on our way back down the trail. We had to go to Philips Junction to pick up food. From there were going to make the climb up to Beaubien. At food pickup I sorted out all the food that I did not need as I was one person getting food for two. As for the trail up to Beaubien, it was a little bit of a climb. We made good time getting there.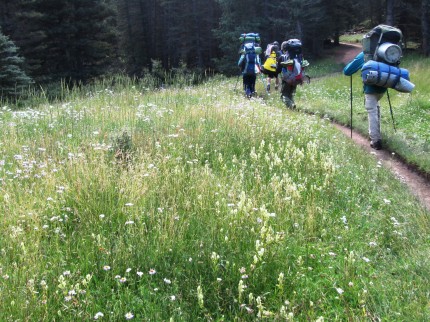 We had our porch talk and then we were headed to our 2:00 conservation project. As we were about to get started with our conservation project it began to rain. It continued to rain all afternoon. We had chuck wagon dinner, beef stew and cobbler. We were under a shelter for dinner which was good because it was raining for most of dinner. After dinner, we got a break, went back to the staff cabin and picked up our packs so that we could head to our campsite.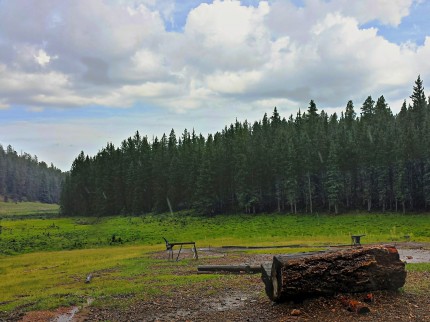 As the sun was setting we put up our tents and prepared for our Sunday services. We had a brief sacrament meeting and then hiked to catch the last part of the staff campfire. Soon enough we were on our way back to camp for a good night's sleep.
As for the miracles of the day, we definitely were blessed to get up the hill to Beaubien, with four days worth of food on our backs, in time to do our conservation project. We were also blessed by having dryer weather while hiking. It was actually a beautiful and we were protected from the rain when it rained.
---
related post