We woke up early and broke camp quickly as we had a long day ahead of us. We had to make it over Trail Peak and on to Carson Meadows, about 11 miles away.
Once on the trail we made good time. We did not need to take a lot of water and we only had a couple of day's food left at this point.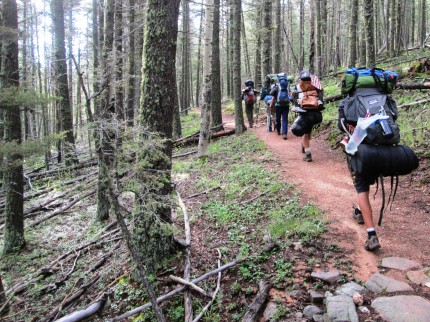 We passed through one of the meadow areas that we rode through the day before. There were some clouds in the sky. However, there seemed to be a good deal of sunshine available as well. We were about to cross Bonito Creek for the first time for the day. We would be crossing it a couple of times during the day.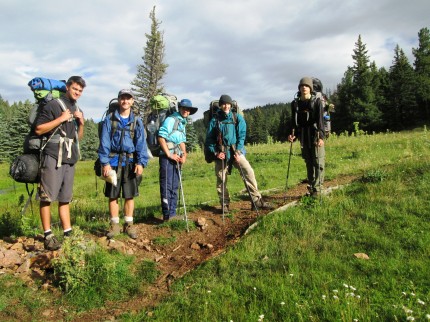 We must be in better shape as we were traveling rather quickly. On the other hand, no one wants to be on a peak in a thunderstorm. Due to all the rain that we have experienced, the crew wanted to be of Trail Peak before 11:00 AM. That is not hard to do when you get there before 9:00. On trail peak is the wreckage of a B24D Liberator. There is a plaque on a tree as a memorial for the ill fated flight.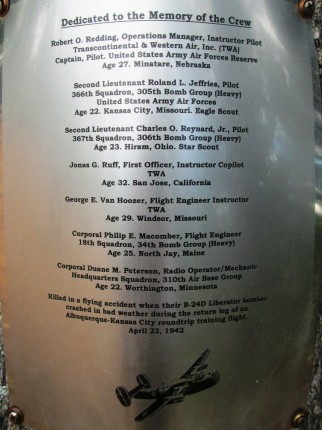 Toward the top of the peak is a wing of the airplane.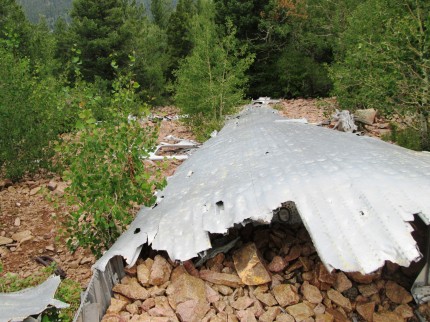 Another picture looking out from the wing gives a different perspective. Trail Peak is 10,246 feet and several of the peaks in the distance are 10,000 feet in elevation and above. Some of the ones in the far distance are closer to 12,000 feet in elevation.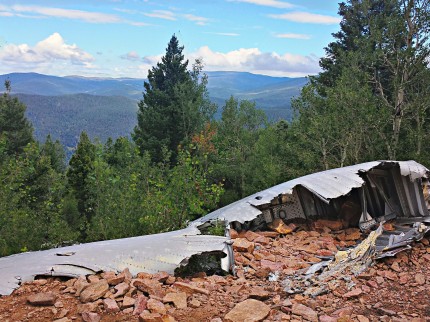 Of course there is the obligatory group picture from the peak itself.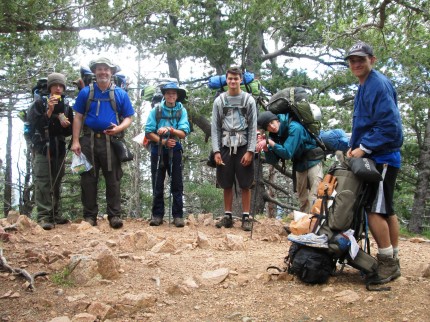 I guess it was nice to be on a peak and be able to see without an over abundance of cloud cover so I took several pictures. It is beautiful country when you can see it.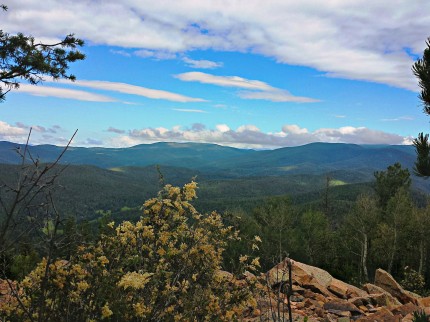 On our way down a scoutmaster going up with his crew had to warn us all to tighten up our boots. Apparently the day before two people rolled their ankles pretty good. If the young men do not know by now, as we have stopped to tighten up the laces before going downhill to prevent blisters I do not know what more can be done.
We then made our way to a place to sit down and finish breakfast. From there we headed towards the Bonito Creek. In our haste, we missed a right turn. Or should I say the map show the right turn and no trail going straight. There is actually a trail going straight. No problem, when we got to the road, we just turned right which would lead us back to the trail where we would turn left onto the trail. Well we took a left on a trail and thought we were on track. Except the map does not show the trail we took a left on as the trail we should have taken the left on is about 100 yards further. We followed the trail and lo and behold the crew kept going. The trail was there to see, just not a trail that had a lot of use.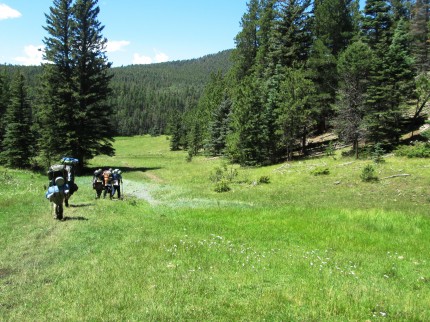 The question then is where are we? The young men looked around. We were on a trail that did not show on the map. There was a trail in front of us that did not show on the map. One of the young men spotted a trail sign off in the distance on the other side of Bonito Creek. With a little help from a GPS devise we located exactly where we were. We determined that we would follow the trail, which was not on the map, heading south west towards the sign across the creek.
Once we arrived, in the vicinity of the sign, we determined that now we were actually on the trail that we were supposed to be. Nothing like a little "shwhacking" (bush whacking) on perfectly good trails that do not show up on the map. That being said, Philmont seems to always improve their trails and take trails off the map that are too steep when they have built a replacement or want to reroute traffic through a less sensitive area.
After the nice relaxing walk along Bonito Creek in the meadow like setting, we got in the canyon. This is when the trail really dropped in elevation. There is one part that drops 300 feet or more in a quarter mile stretch. The trail is also known as the Stairmaster. Yes, the picture is from the trail looking down the "stairs" with Bonito Creek in the background.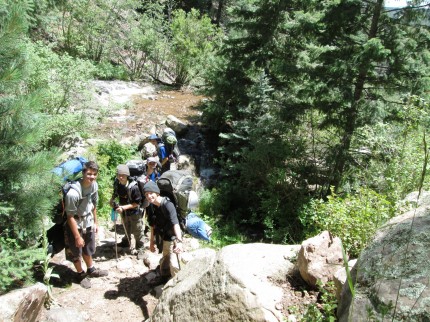 Soon enough we made it to Carson Meadow camp. We arrived on the porch to get a view of the Tooth of Time in the background some 6 miles away between Fowler Mesa and Urraca Mesa.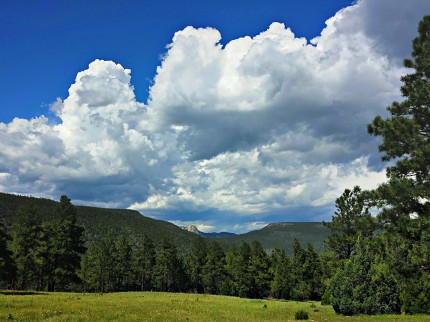 Soon enough we were walked to our campsite. We were at the bottom of a meadow. As the meadow was used for ultimate Frisbee and other activities, it was acceptable to move into the meadow a bit to set up tents. Then again, there was not much place else to go to get out of the bearmuda triangle. We needed to sleep at least 50 feet from where we cooked, our dining fly and the sump. I was just glad to be on dry ground.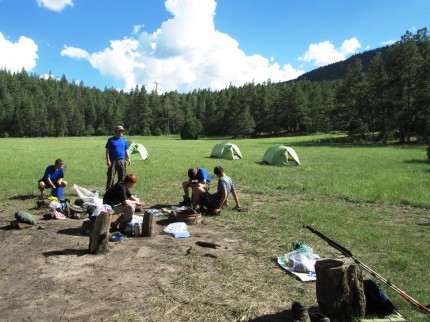 Of course, there was some thunder a couple of miles away. The sky was blue where we were. However, to the north, you could see thunderheads. Out of habit, the dining fly became the place to be.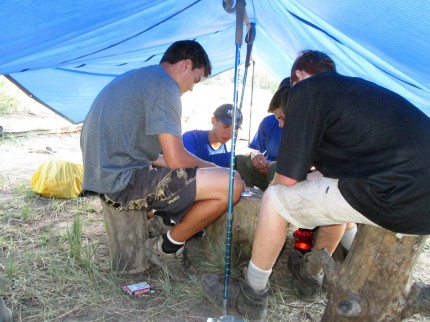 The evening was beautiful and it was warm. In fact, believe it or not, one of the young men complained that it was too hot. I thought back to our talk a few days before that there is an opposition in all things. We must know pain to enjoy joy. How about bone chilling cold to enjoy warmth? Yes, it was warm. However, it was nice to be warm. It was also nice to get some laundry done and put it out to dry. I also took a sponge bath to remove the dirt and cool off. I was happy to do that and it was nice and warm so I dried off quickly. Warm is good.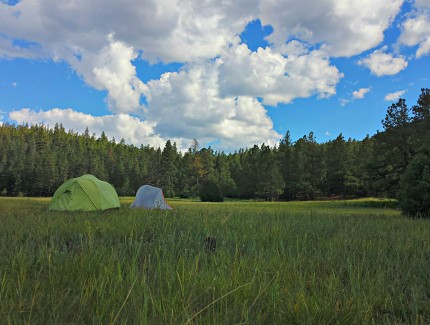 The adults made their way to the staff cabin for scoutmaster coffee as it is called. Tonight was a little different. There was some store purchased cookies that I ate. Then there were the chocolate cookies with chocolate chips fresh out of the oven. Warm cookies while sitting in a swing on a porch on a warm evening is much better than drizzling rain and cold weather. What a great day. Miracles – We made the trip to Carson Meadows quickly and without getting way off track. In fact, the swacking saved us a mile or so. The young men are playing ultimate Frisbee and having fun. Perhaps the fact that we made it safely to our destination without any injury is a miracle.
As for the flora we have a few more new ones today, Shrubby Cinquefoil which has a nice yellow flower and Creeping Holygrape, which also has a nice yellow flower before the fruit forms. Then there are the yellow flowers next to Bonito Creek.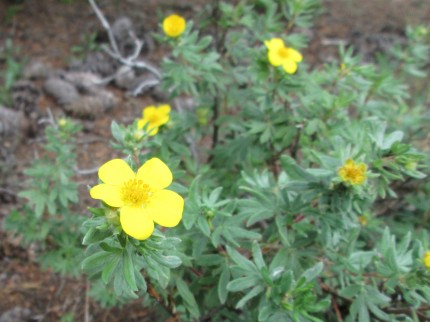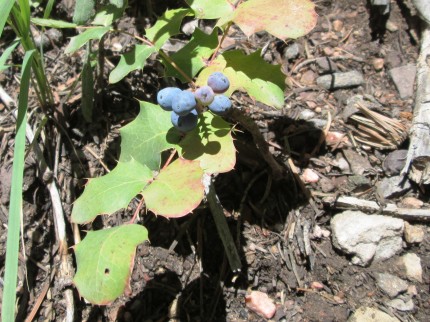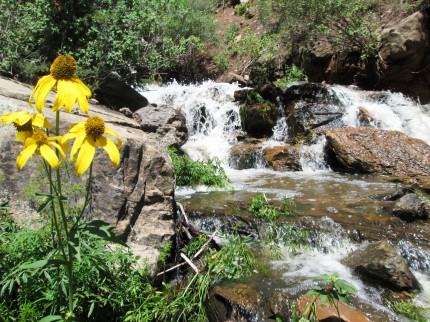 ---
related post