We were up early today as we wanted to get moving before we had any rain. The sunrise was on the edge of the meadow and it was nice to see some blue sky. It had rained last night, sometimes a little heavy.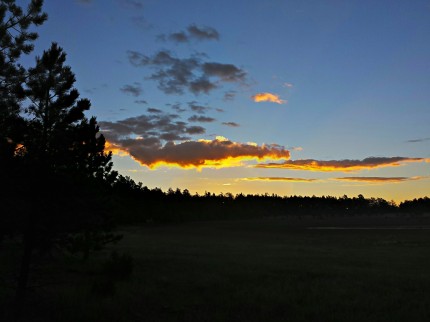 After getting a few things done, we went on a meadow walk. Our ranger, Chris had us walk out into the meadow and think about why we were at Philmont and what we wanted to get out of our being there. It was a beautiful morning and it was nice to be in the sun. My answer was to have fun.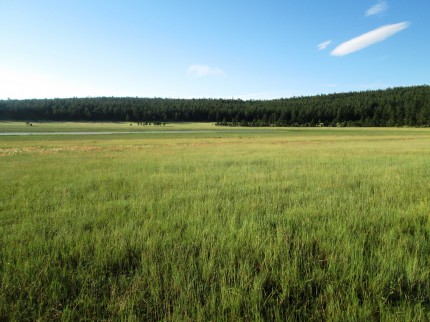 As we made our way back to our camp we came across some turkeys and their young moving through the tall grass. Depending were they were at, you could see the young.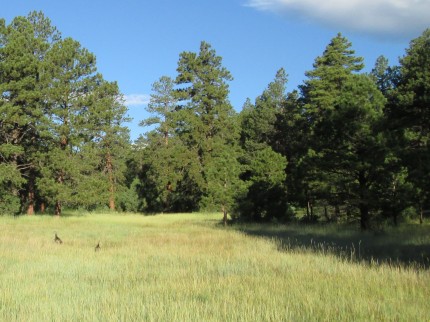 We also had a chance to get a photo of all of us.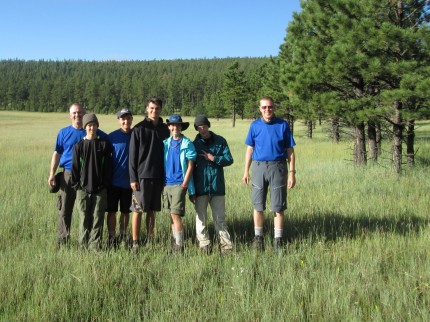 Soon enough we were on the trail. It was a nice walk in the forest as we made our way to Ute Junction to pick up food.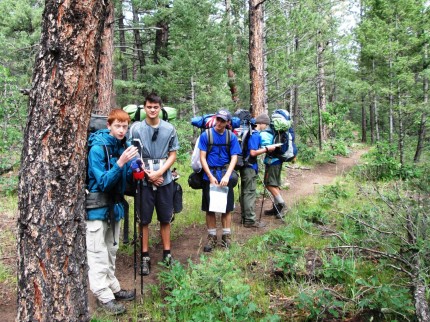 One of our stops in the past has been at the edge of the ridge overlooking the valley where Ute Gulch is. It is a good place for a group picture.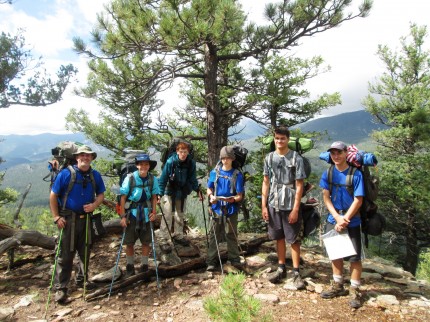 It also seems to be a better place to get on the edge of things.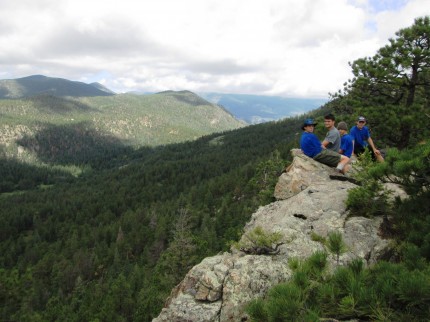 We were a bit on edge as well as the sky seemed to be filling with clouds. It was after 10 and we still had a ways to go.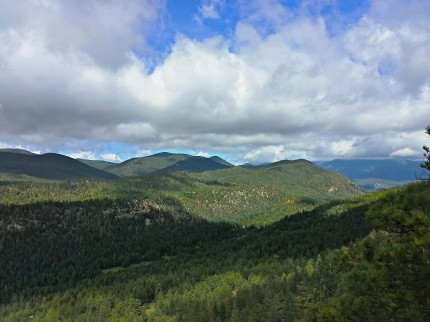 We got to Ute Gulch, picked up our food and ate lunch. We still had a few miles before we made it to Cimarroncito. Unfortunately those miles were mostly uphill. Just the thing you want to be doing after picking up four days worth of food. The good thing was that the trail was nice.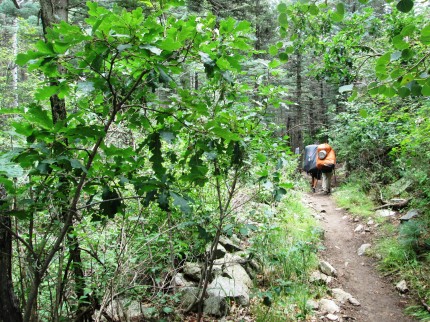 As we neared Cimarroncito, we could see more large rocky outcroppings. Hence the activity there is rock climbing.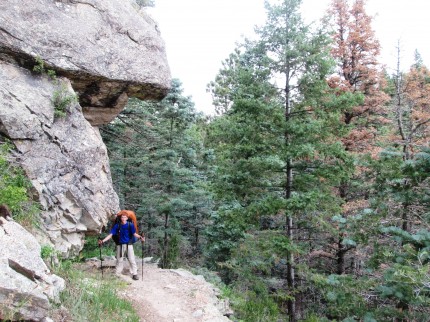 We made our way to the porch for the porch talk. The clouds were getting a little darker and more ominous. We chose to leave our packs at the staff cabin to go rock climbing. I always am fearful of leaving my pack with mini-bears lurking as they like to eat holes in packs. That is just a chance one takes.
We climbed up at one spot.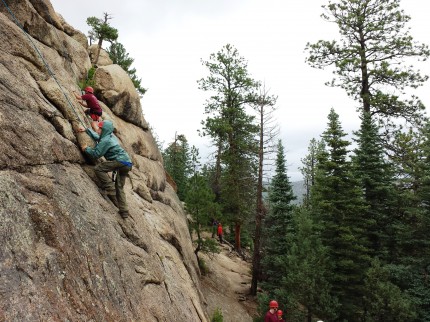 We then rappelled down another spot.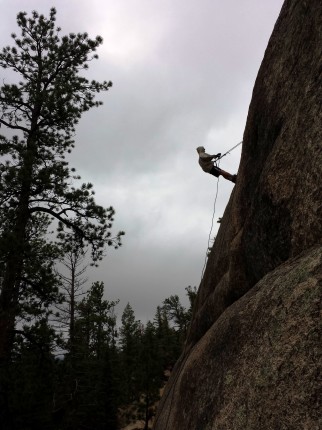 There was also a nice view from up on the rock. It was also not a surprise that it rained lightly for a few minutes when we were climbing. A few weeks before the rock was so hot people were blistering their fingers. A little moisture is not a problem either. The problem that will get you off the rock is thunder and lightning.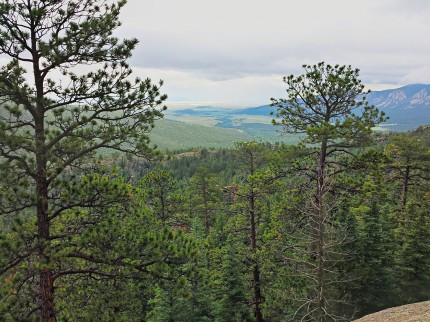 When we got back to the staff cabin we chose to shower before going to our camping spot and setting up camp. We got two keys for two showers for an hour for the seven of us. I was ready to go so I got a key and headed to the shower. It started to rain lightly when I entered the shower. As I showered, I could hear thunder and the rain was heavier. By the time I got out of the shower there was hail. We were lucky that by the showers there is a laundry area that is covered. We waited there before showers and after showers. It also rained the whole time we were there with a fairly heavy downpour. You could say the laundry was not drying very well.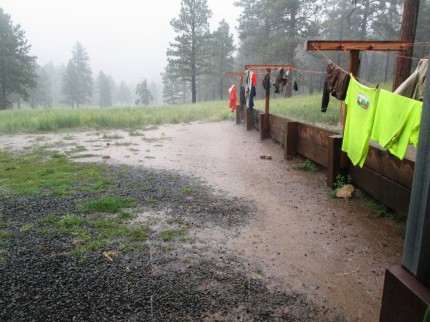 In a light rain we made it back to the staff cabin, got our packs and headed up to our campsite. We set up the dining fly, hung the bear bags and set up our tents while dinner was started. We needed to be careful with our bear procedures as a bear was seen that afternoon in one of the other campsites just lumbering through.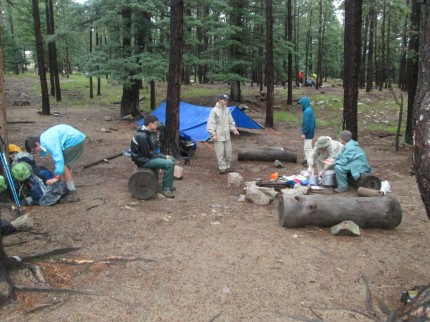 As it was fairly drizzly and cold, most everyone retired early. As for the night, it rained most of the night with some fairly close lightning and thunder. It was a little difficult to sleep when you see a flash and start counting and waiting for the thunder in the middle of the night.
As for the flora, we have Scarlet Beardtounge (Scarlet Penstemon), Mexican Hat, Cactus and an unidentified yellow clustering flower.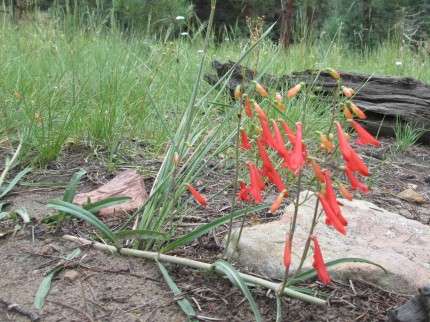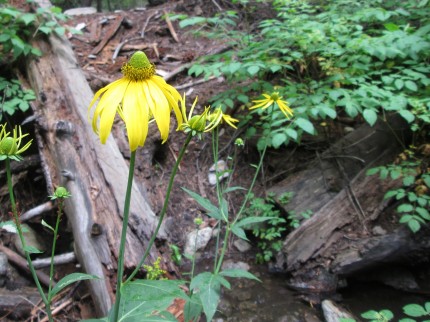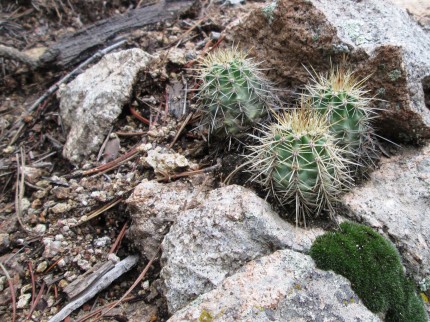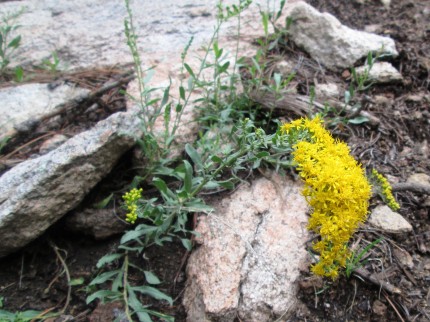 ---
related post