We arrived at Philmont Scout Ranch this morning and checked in. We met our Ranger, Chris from Texas. Our first task was to unpack the van and take our backpacks to the trail-bound tent area where we were assigned our tents. The young men did well as they learned the tasks they needed to accomplish to get ready for the trail. We all had a medical recheck and picked up our crew gear and tents.
One thing we did was get our picture taken. While there, I heard a familiar name, Brother Cardon. I turned to look and it was Brother Cardon, who once lived in Riverside, California where we are from. They had moved to New Mexico several years ago when the youngest was very little. Now he was at Philmont to do a Trek with his son and their Crew. We met up again at the commissary and snapped a picture.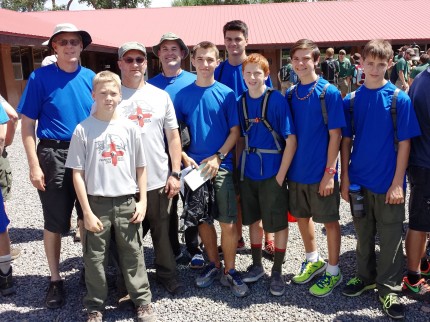 In the early evening we had meetings for the adults, Crew Leader, Chaplains Aid and Wilderness Gila. As the evening meeting started, it started to rain. Then as the meeting progressed it rained even harder. There was about 40 minutes of a good heavy downpour. It has been dry in the area so the rain is welcome.
After the meetings we attended church. It was Sunday evening so there was a regular Sacrament Meeting. Church was very spiritual and I was touched. The speakers talked about the characteristics of Christ. We were also challenged to look for miracles when we were in the backcountry, which is commonly referred to a Gods country. I really felt the spirit as we sang the closing song; I am a child of God.
From there it was off to the opening campfire. The campfire was held at the Welcome Center, which is covered, as opposed to its usual outdoor location. The reason, more rain. As we were at the campfire, more rain came. We walked to our tents in the rain. In fact, it rained most of the night.
---
related post