Today was the Show and Go car show. There were lots of great cars. Jacob and I met Emily and Elizabeth downtown to walk around and look at the cars. The tradition is to walk to the other end of downtown and get lunch at Carl's and then walk back home.
On our way back we stopped at the Boy Scout area where they were having the Mt. Rubidoux District Pinewood Derby finals. Elizabeth picked up a crown advertising the upcoming Cub Scout Day Camp.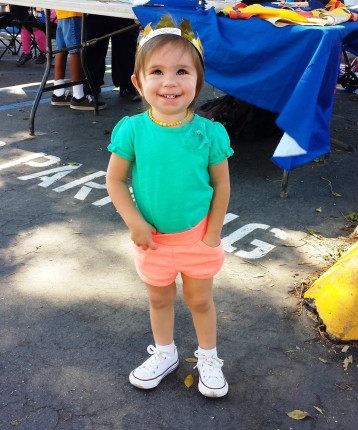 We looked at more cars and I was tempted by ice cream until I saw the price – $7.00. I did not need ice cream that bad. I work to hard to get rid of the extra stuff in my diet.
As for the got to have, we were walking along and Elizabeth came to a stop. She just stood there. She then walked over to some people sitting and watching the cars cruse the street in the Show and Go. She was making a beeline for a dog. She was there for several minuted enamored with the dog. In fact, when the dog licked her face, she stuck out her tongue. That may be a fact saved for a later date. Just wish that picture turned out . . .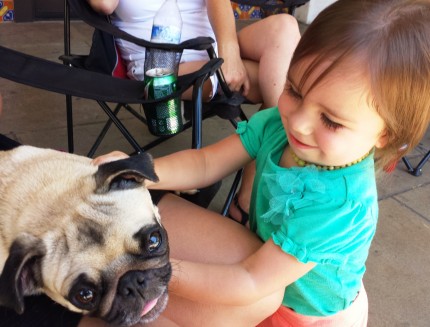 We finally got moving again and Elizabeth was not happy about leaving the dog. At least the dog smiled for the picture. There may be a dog in her future.
---
related post