This evening I stopped by to pick up Elizabeth for a Grandpa Granddaughter date. I walked over to her house and then we walked downtown. We went to Antonious Pizza and purchased a couple of slices of pizza. After pizza we walked the downtown plaza. I thought I would get a shot of Elizabeth on the statue of Eliza Lovell Tibbets. Her and her husband are know for growing the first Washington navel orange trees and founding the citrus industry and cultural landscape of orange groves in California. Hence a picture of the statue and an orange tree.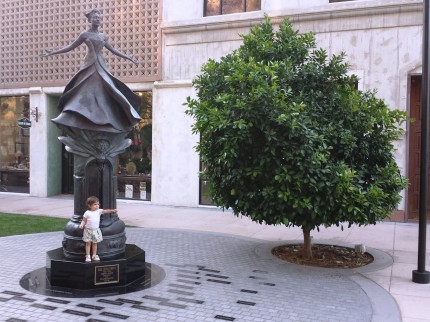 However, Elizabeth was more interested in the horse drawn carriage 25 yards away. She was pointing and saying wow-wows. Her term for four legged furry animal, dog or horse. We proceeded to go look at the horses. The carriage driver said that I could get a picture of her in the carriage. My thought about this picture is, Where is the Prince? or, Why are the horses not moving?
We had a great evening. It is always fun to get out and take a walk with such a fun and smiling young lady.
---
related post