Today Janet and I went to Oak Glen for her birthday. We had the opportunity to take Elizabeth along. I though it would be great fun. We ended up at Los Rios Ranchos for lunch, apple cider and a little bluegrass music. Lunch was good. Elizabeth especially liked grandma's apple cider over the water that I gave her. Go figure.
After lunch we listened to music and wandered around the store. After we purchased some apples, some old fashioned candy and of course a couple gallons of apple cider, we turned to the outdoors for some adventure. Just out the front doors were a couple of large horses that Elizabeth got excited about. She pointed and said, "wow wow," her regular phrase for dog. Then again, wow wow may be big furry animal on four legs.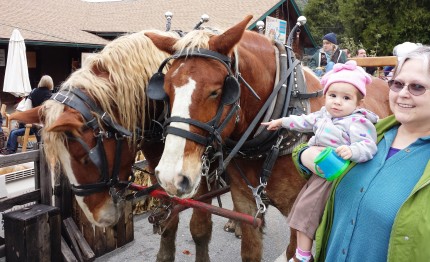 Form their we went to the petting zoo, which was closed. We still got to see the goats, sheep, pig, llama and horses. Wouldn't you know it, wow wow was the phrase. It must be applicable to four legged animal. I wounder what she will do when she sees a chicken or turkey?
We then wandered out to the Oak Knoll Park. Elizabeth stood still for a picture. I should say, kind of stood still. She slowly moved towards me.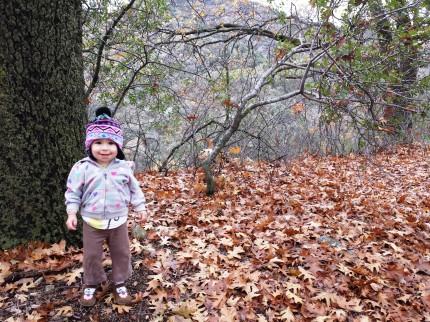 Of course then it became a game. Chase after grandpa as he walks backwards snapping pictures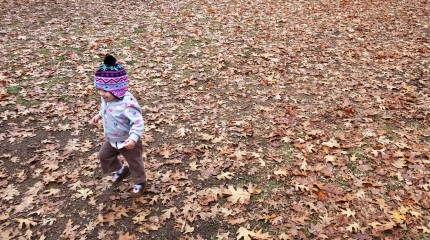 .
She thought it was so fun she started making the noise and facial expressions she does now and then. I took several pictures just to catch those rare expressions that happen so quickly. And, yes the chase was on.
We reached a point where we had to return. But not before giving a real wow wow (dog) a rub on the head. Elizabeth was not as interested in walking uphill as she was chasing grandpa downhill. I piked her up and we made out way back to the truck. It gave us an opportunity for a few more pictures.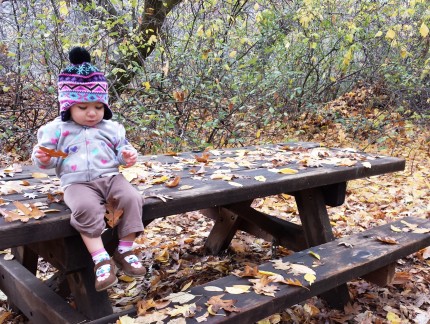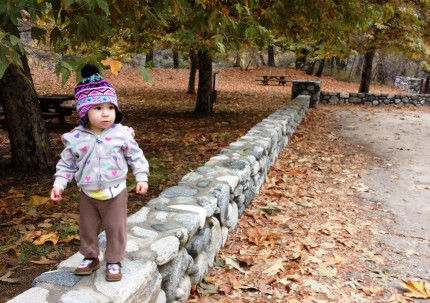 Soon we were in the truck and on our way to find a geocache. We went to An Apple for the Teacher – GCPVQQ It was at the old historic school house in Oak Glen. After logging our find, we got back into the truck and headed home. It was a great day for lunch, a little hike and grabbing a geocache.
---
related post