We made the decision last night to get up early today. About 2:00 am it rained for a while. About 5:00 am it began to sprinkle. I was thinking of the best way to pack and keep things dry. Water on tents and other things just adds weight.
Just after 5:30 am it stooped sprinkling and I began packing up my things. The others started to stir and Jacob was soon to follow. As usual, Jacob was finished and waiting. All the adults were packed and ready. However, the 7 year old was not quite an early mover and shaker. The moment he had his backpack on, the 7 year old hit the trail. Jacob, not wanting to be the second person on the trail put himself in high gear and headed for the trail as well.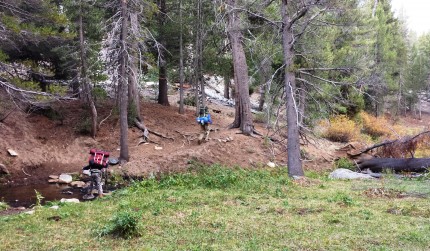 It was a nice cool morning and it made hiking a pleasure. The rain had firmed up the sandy parts of the trail and eliminated the dust issue. On my way back I took pictures of things I had not noticed before or ones I had a different perspective on.
Soon I caught up with Jacob. He announced that he had been waiting for 12 minutes. I figured that I took a few minutes to take pictures and it is fine if he is about four or five minutes faster per mile than me. Soon enough I was back at Casa Vieja Meadows. I thought I may see Jacob here, but all I saw was footsteps.
I had given a camera to Jacob to slow him down. He usually stops to take pictures. I am not sure how much it slowed him down, but he did get a picture of the old cabin at the edge of the meadow.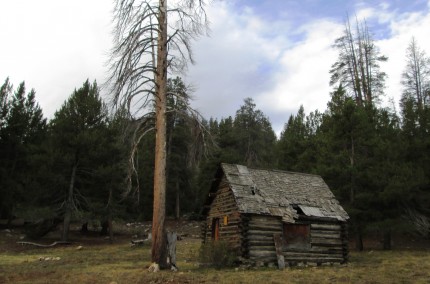 I stopped to take a picture of the view from the holding pen at the edge of the meadow. I am not sure, but I think the peak in the distance is Kern Peak.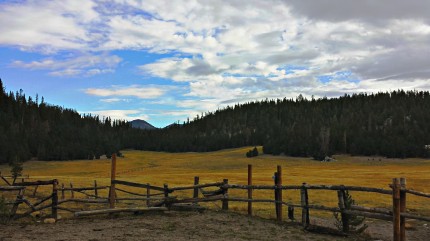 I still thought i would see Jacob waiting somewhere. I just kept moving up the trail. It started to sprinkle and I thought, just keep moving. I made it back to the trailhead and there was Jacob. He was sitting in the back of the SUV with his clothes changed and waiting for me. He announced that I was an additional 22 minutes behind him for a total of 34 minutes. I thought 34 minuted faster for 4.3 miles must indicate that next time he carries out the tent as well. he is young. We went back down the trail and met the others. There was a moment to get the picture at the wilderness sign so we took advantage of that. Overall, it was a great trip and I hope to be back in the Sierra Nevada mountains again soon.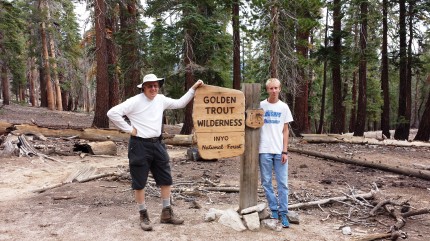 ---
related post