For Operation On Target one must wake up early. To get to the tip of any peak, it requires a little time. We needed to be on the top of the mountain by ten. Operation On Target, if you did not click on the link, is where scouts flash mirrors from peak to peak and communicate with HAM radios. Here is Southern California, we do it every third weekend in July and September.
As we left Fish Creek Saddle campground and hike along the Fish Creek Trail we looked down towards Dry Lake. As I have only been hiking in the San Gorgonio Wilderness the last few years I have never seen the lake empty.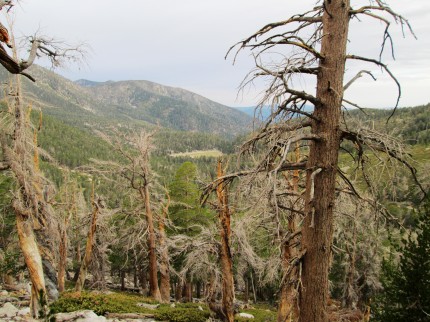 We met up with the Sky Line trail headed in a southerly direction. As we gained elevation on the trail we could see out towards the low desert and down the drainage of the Whitewater River. It does not look like sunshine will be in the cards for Palm Springs this morning.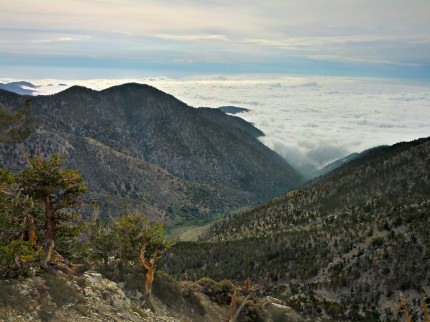 I also had someone take my picture at the switchback. So often I go hiking and do not get my picture into my blog. You can see that there is some cloud cover in the north.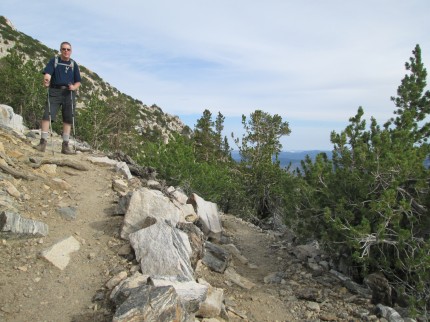 One of these days I am going to go climb Drangons Head. It just looks so irresistible standing there at the end of The Tarn. How often can you say that you have been on top of a "Dragons Head".
We climbed to the peak where I took a picture of Big Bear Lake. Not a lot of clouds ominous in the North West.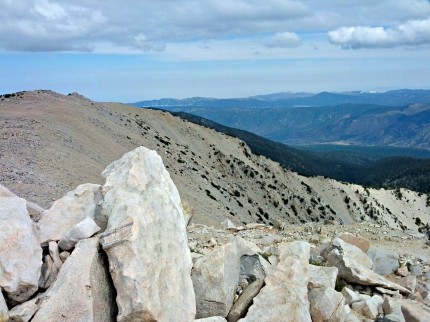 Then there is the picture from the top. Last time I was up here it was sunny and the person that took my picture said he would email it to me. He did, it was a very small photo. In case you do not know, you can click on any of the photos and make them bigger, much bigger.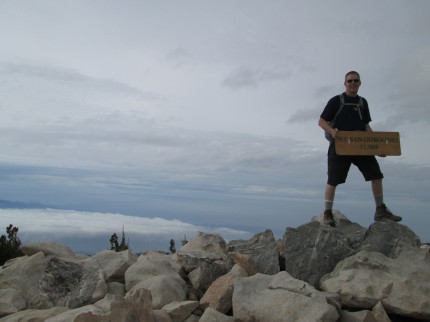 We were flashing Mt Baldy which was in the haze of the clouds. It did not even show up on this photo. If you look close where the rocks and vegetation meet, about the center of the photo you can see a light purple coloration. It is just barely above the rocks. I took the picture to highlight the clouds between Mt. Baldy and us.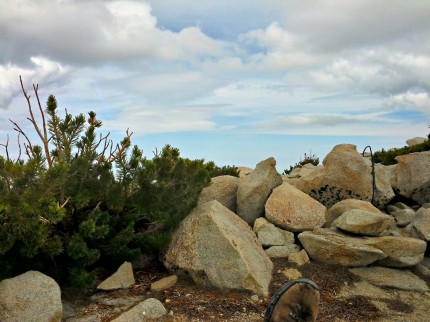 We usually have someone on Mt. San Jacinto. However, they could not get there due to the fire. In the picture, if you make it bigger you can see the smoke rising and moving towards the west.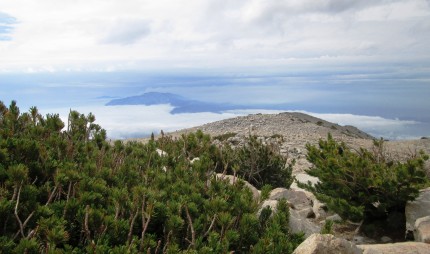 There were people on Keller Peak, which has no line of sight to San Gorgonio as wall as Mt. Baldy and Box Springs in Riverside. We saw flashes from Mt Baldy only. We only were able to send flashes intermittently (only about three times with almost full sun) as we were under cloud cover most of the morning. Mt. Baldy saw our flashes on one occasion. All the flashing was done by scout Jared from Arizona. He came on this trip with his grandfather Ron.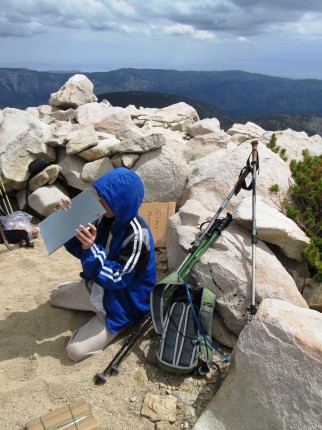 It was becoming longer and longer between possible openings for sunlight to do any signaling. The cloud cover was getting thicker. We started to head off the top of the mountain. In the photo below, several of the other peaks can be seen. I believe they are Shields, Anderson, San Bernardino East and San Bernardino peaks.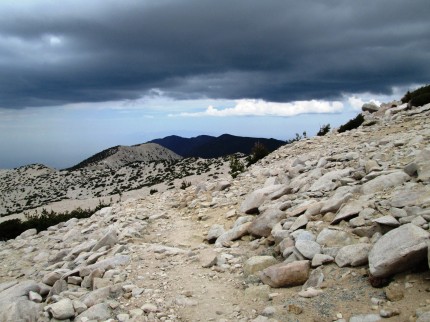 A little further down the trail we noticed that it was definitely raining towards Yucaipa and Beaumont. As thunderstorms were forecast after 11 am and it was 11:30, it was no surprise that the possibility of rain was picking up.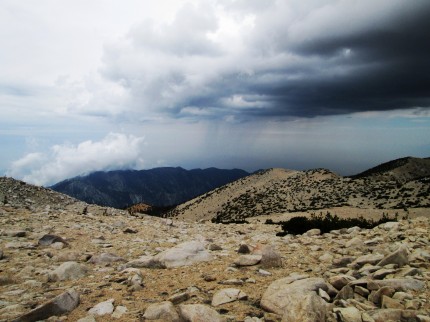 We passed several people who were headed up to the top while we were headed down. After about an hour of leaving the top we stopped to have lunch. I thought I would rather eat before it rained. During lunch people kept coming past us. Many had no day packs to carry rain gear. The average was t shirts or tank tops, shorts, a liter of water and a fanny pack. Others were well prepared. Perhaps the ones that looked unprepared had the 99 cent ponchos stuffed in their pockets. The highlight was the young man carrying a gallon of water in one hand and walking barefoot. He also had a day pack so he may have been prepared with raingear and possibly a pair of shoes. No sooner had we finished lunch and the rain began. We also found ourselves in cloud cover.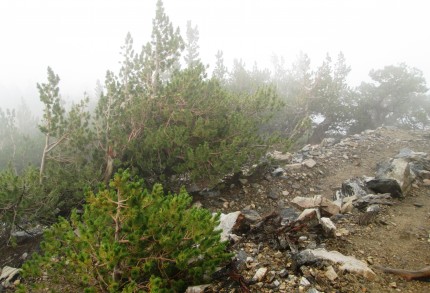 About 2 hours off the top we heard thunder coming from over the peak. It kept raining on us until we got close to camp at Fish Creek Saddle. Dry Lake was still dry. However, there was a little moisture on the ground that could be seen.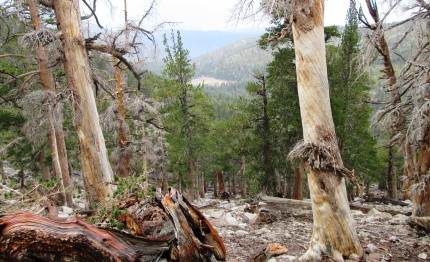 We shook the water off our tents and cleaned up camp. Much to the disappointment of the local crowd, we are Leave no Trace campers. I always hang a "mini-bear" bag with my trail food. The last thing I need is a mini-bear eating into my pack for a snack. I have watched them tear up packs and food packaging over time just to get a snack.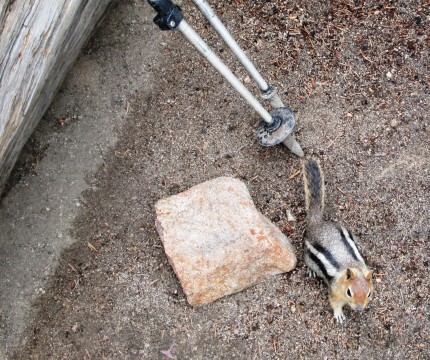 When camp was policed, we grabbed our packs and prepared to head on down the trail. My pack was much lighter. I started out at the trail head with eight and a half liters of water. Now I had at the most three. I like water and do not like being thirsty. I also figure carrying a little extra just makes me stronger and helps with loosing the weight over time.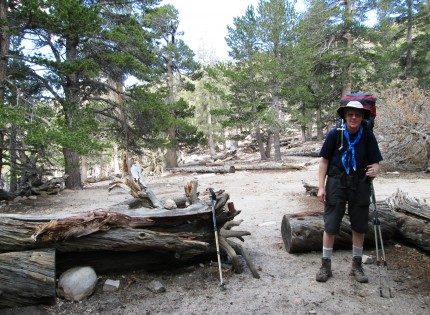 As we headed down from the saddle we met another scout troop headed up. They had been rained on as well. They said they were hit by a good downpour. However, the sky was blue in the east and by this time the sun was out towards the east.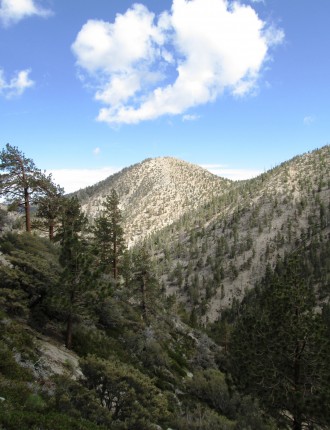 We had sunshine the remainder of the hike down. There were just a few nice and friendly white clouds to be seen. Of course that led me to thinking. Do the trees and plants like nice fluffy white clouds or do they prefer those dark clouds that are considered angry? If I was a tree in the forest, give me more dark angry clouds that dump water on me. Just do not plant me in a ridge and let the lightning that comes with those dark clouds get me.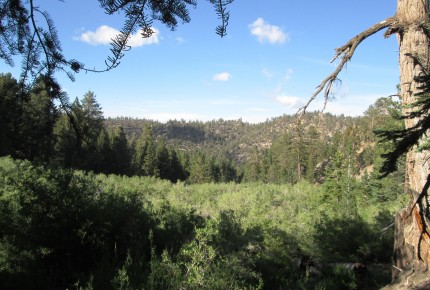 It was a good day and a nice hike. I look forward to the third weekend in September for another trip to the top.
---
related post