There are some people that are placed on earth that have an impact on others in a positive way. Many years ago, while attending RCC, I happened to take a speech class where I met Dr. Dina Stallings, or "Doc" as she was better known as. She always seemed to stretch us all past what we thought we could do. She was always positive and a great influence on all she met.
Just last night I was cleaning out a filing cabinet to make room for another years documents and I ran across the original newsletter that was published with picture of the original Board of Governors for The Friends of Riverside Community College Forensics some 18 years ago in 1996. I was part of the original Board of Governors and conveniently left my name off the newsletter as I was publisher. Doc did not let that happen again as my name was on the next newsletter that was published as the publisher. The picture from that original meeting is below.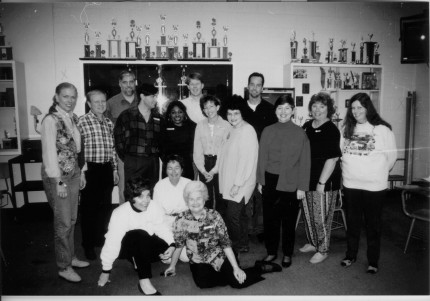 Today her Celebration of Life is being held. She passed away a couple of weeks ago and I have spent some time thinking of her great example and years of service. Then, this morning, I ran across the photograph of our 1980 Forensics Team at RCC.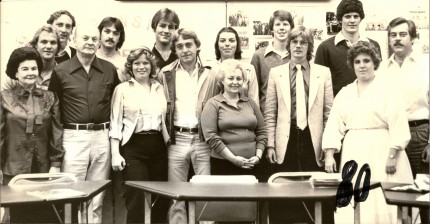 I am thankful for Doc and the growth she inspired in myself. She will always be remembered.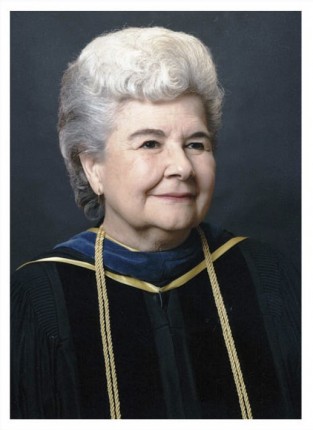 Additions – –
The Celebration of Life was wonderful. Many memories of the things that Doc said as well as her persuasiveness. There were many speakers that spoke of how their life was influenced by Doc.
A copy of her Obituary is found below:
DR. DINA ("DOC") STALLINGS November 19, 1924 – February 27, 2013 Dr. Dina Stallings, a nationally-recognized speech and debate teacher at Riverside City College and professor at RCC for 26 years has died of pancreatic cancer at her home in Corona on February 27, 2013. She was 88 years old. Dr. Stallings was the first female to be named full professor at Riverside City College where she founded and directed the Forensics and Debate program. Dr. Stallings also taught political science, English, and created the children's literature program. In the 1960s and 1970s the teams coached by Dr. Stallings became well-known in national competitions, and won the National Sweepstakes Trophy for Community Colleges on several occasions. "Doc", as her students called her, was recognized by forensic students across the country by being named First National Coach of Fellowship and Inspiration. She also founded and directed the Riverside Community College District Friends of Forensics.
Dr. Stallings has been honored on many occasions. She was RCC's faculty lecturer in 1982, and was selected by the students as "Teacher of the Year." She also received the Riverside NAACP "President's Award" and other awards too numerous to mention.
Born in Tishomingo, Oklahoma, to Andrew Jackson Brock, a teacher, and Marguerite Blanche Brock, an entertainer, Dr. Stallings had two younger sisters: Pola and Greet. Their family lived a block from the Chickasaw Tribal Long House. Dr. Stallings was a lifelong supporter of Native American causes and culture. She received her Bachelor in Arts Degree in 1946 from Southeastern Oklahoma State. In her college years, Stallings was a gifted singer and almost pursued a career in opera but felt called to work in the field of education.
In 1945 she married John Stallings and they moved to California to work as school teachers and administrators. Dr. Stallings's second inspiration was her husband of almost fifty-five years, Dr. John Stallings, former Superintendent of Schools in the Corona-Norco Unified School District, for whom an elementary school has been named. He passed away February 25, 2000. They gave up scholarships at Baylor University to attend USC and pursue their dream "to have a wonderful family life, to teach and to continue their devotion to God. Theirs was a faith-centered life." She completed her Master's Degree at the University of Southern California and, in 1957, was awarded a Doctorate of Philosophy from USC. Although she had an offer to teach in the UC system, she had a firm belief in the value of the community college system.
Dr. Dina Stallings was very active and generous in supporting her church and community. She lived surrounded with books, and was still aflame with a love of forensics that caused her to create the group known as "Friends of Forensics" which promotes speaking activities from kindergarten through twelfth grade. After retiring she was very busy in the Friends of Forensics program, which provides opportunities and incentives for students from kindergarten through the twelfth grade to speak at public events and brings in community members to be an audience for the speakers. She describes forensics as, "Communication which seeks to give truth and justice a chance and leaves a sense of beauty behind."
Students and coaches have named a tournament after her, and a room has been named in her honor at RCC. She created the "Listening Ear" project which sends volunteers into classrooms to hear speaking projects and present certificates to students and teachers. There are speech contests and debates at the middle school and high school levels. She spearheaded the "Friends of Forensics Annual Art Auction," to raise money for such projects. Dr. Stallings was also on the Scholarship Committee of the California Retired Teachers Association and supports scholarships as a member of Woman's Improvement Club of Corona.
Dr. Stallings message was, "Don't take love and gifts of life for granted." She believed strongly in the working man and equal opportunity for all and in the sanctity of the human spirit. She was the "Energizer Bunny" who never stopped giving to the community of Corona and other cities around us. She remained in touch with scores of colleagues and former students and was always a passionate supporter of their endeavors. She firmly believed that people can do anything if they want it badly enough and are willing to work hard to achieve it. Dr. Stallings said: "You measure yourself by the service you give to others."
Dr. Dina Stallings is survived by her sister, Greet Shepherd; her children: Julie Stallings, Share Stallings with husband Gary Pidgeon, and son, Kim Stallings with wife Jane; her grandchildren: Shawna Hudson with husband Don and daughter, Rosemary; and Jason James with wife Natalie. A celebration of life will be held on Sunday, March 17, at 2:00 pm at the Landis Performing Arts Center, Riverside City College, 4800 Magnolia Avenue, Riverside, CA 92506. The Stallings family suggests that in lieu of flowers gifts be made in Dr. Stallings name to the RCCD Foundation for the Friends of RCCD Forensics, 4800 Magnolia Avenue, Riverside, CA 92506.
Published in Press-Enterprise from March 9 to March 12, 2013
---
related post