I have to admit that I have never heard of Dia de Los Muertos (Day of the Dead Celebration), or at least never understood what it was all about. As for the setup of the evening, on Thursday evening Janet and I were out to dinner at one of our favorite restaurants, Zacatecas. Our waitress mentioned that they would be selling tacos downtown on Friday from 6:00 to 8:30 on Friday for Dia de Los Muertos. I was to pick up Jacob Friday evening and I thought that would be a thing we could go to, at least for some food.
On the way back to Riverside tonight, I mentioned that the traffic getting off downtown must be for that "dia de something mortos." He quickly corrected me and mentioned that his Spanish teacher told the class that they could get extra credit by going to Dia de Los Muertos." So we drove home and let the others know our plans.
Walter, Emily, Elizabeth, Jacob and I set out to find tacos. I was still clueless on what Dia de Los Muertos was all about. There were others walking towards the area downtown that the event was taking place. As we got closer, it became very crowded. I noticed tables set up with candles and pictures. As for a good description, I will defer to the text on the flyer.
"Although celebrated in many cultures, Día de los Muertos, is an important Mexican holiday honoring deceased loved ones. It is celebrated every year as the holy days of All Saints Day and All Souls Day (November 1st and 2nd). On All Soul's Day, adults who have died are honored through altars displaying their favorite foods, drinks, personal belongings, flowers, candles, and incense. The rituals surrounding Día de los Muertos have been practiced by Mexican Natives for thousands of years."
There were tables and tables set up. There were cars with alters in the trunks set up. A stage with music being played. Another stage set up for dancing. Lots of faces were painted. There was even a children's area for kids to decorate sugar skulls. As for me, I wandered looking for the tacos. I found the taco stand. As I stood in line, Jacob went down the street to capture pictures for his extra credit. I and ordered asada tacos for Walter, Emily and myself which we decorated with onions, cilantro and salsa.
As for Jacob, he took lots of pictures and even some video.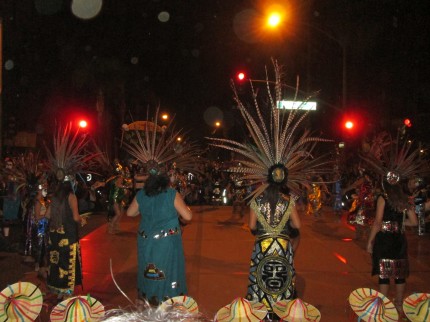 For the extra credit, I thought Jacob should be in the picture as well.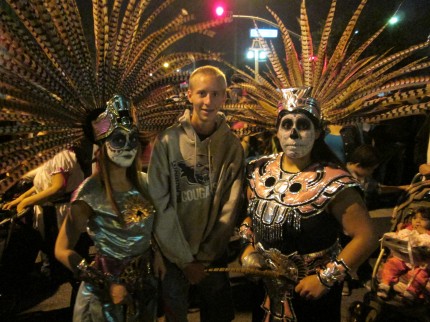 The flash was turned off so I looked for another photo opportunity. I asked another young lady and she said "sure" with a smile. She had a basket of bread that was broken into to chunks about 2″ big. She held out the basket and asked us if we wanted some "dead bread." We both promptly said "no" as I had no idea what constituted "dead bread." As for the picture, she then struck a deadly look.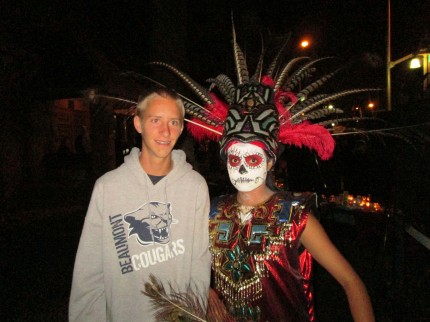 In the picture you can see a table with candles on it as an alter to the dead.
Tonight was the official "I am three months old" day for Elizabeth. A couple of pictures were taken, but I will need to take one later with a sign.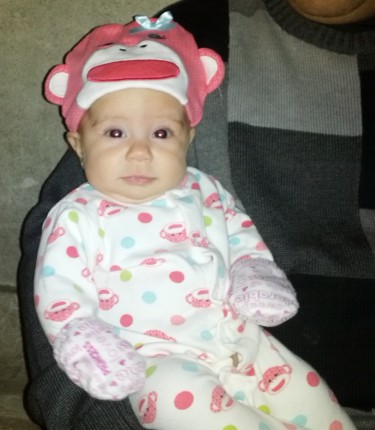 And of course a picture of her towards the end of the evening taken by Jacob.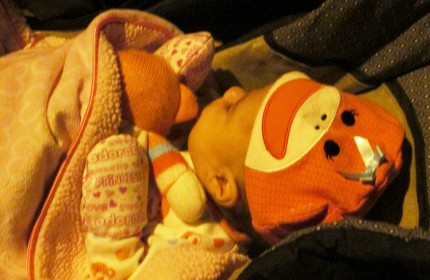 As for an Friday evening, it was fun. The food was good, the opportunity for people watching was good and of course the company was good. As for learning, I learned about Dia de Los Muertos. I also went home and Google searched "dead bread" and found that it is nothing more than sweet bread baked in the weeks or days leading up to Dia de los Muertos.
---
related post