Jacob and I arrived at the Amtrak stop with many other scouts traveling to Philmont. There was a rather large group of us leaving from Riverside. It was three crew in all, 720 Q 1, 2 and 3.

Jacob and I were part of Crew 2 which consisted of seven scouts and two leader for a total of nine members. It was a good size for a crew. Not too small and not too large.
The train was late and we all waited somewhat patiently. When it arrived at almost 8pm, we were put on the last car with two other crews from the Los Angeles area. One of the two crews was going to be doing the same itinerary as we were so we would be seeing each other through the trek. On the train the scouts played spoons and other card games to pass the time.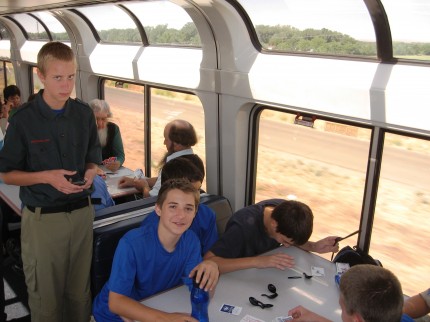 The scouts passed the time until 2AM before they came back to the car to go to sleep. The next day came and they slept in as best they could. It was a long day of sitting after a long night of sitting. Once we arrived in Albuquerque, we got off the train and got something to eat. It was then back on the train for about 4 more hours. As we were getting close you could see the Rocky Mountains off in the distance and the home of Philmont Scout Ranch.
Once we arrived in Raton New Mexico, we got off the train and onto buses for the trip to Philmont. We did have one stop in town to get some dinner.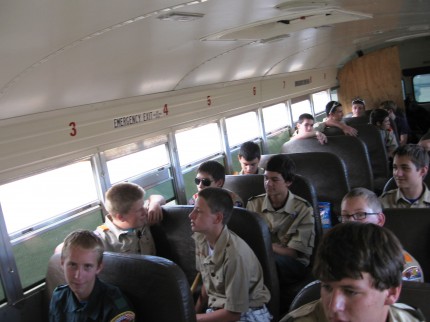 The countryside was dry and brown. It was evident that they were suffering from a drought. We did see antelope and deer on the way. We passed through Cimarron and then to the Welcome Center where we checked in and got some tents to sleep in for the night. Tomorrow would be the official first day when we would meet our ranger and get all the paperwork done.
As for the boots, they cut them down every day. With about 300 people finishing their treks every day there is bound to be a couple of people that want to leave their boots behind. Or then again, bring an old ratty pair so you can contribute to the ambiance of the sign at the Welcome Center.
---
related post