As the sky was beautiful the night before, we were told that it is a beautiful view in the morning as well. In the morning I declined to go look at the view. However, there was one that went down to the porch of the staff cabin and took a few pictures as most of us slept.
Of course, here is the picture from the night before.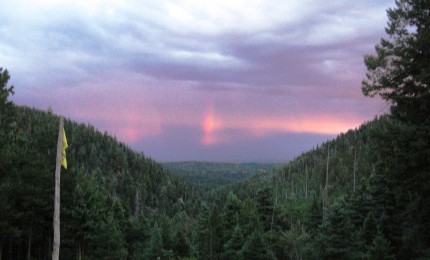 Soon enough we were on our way. However, Mother Nature provided a little moisture over night in the form of dew. Hence, the clothing did not dry our and it needed to be attached to the pack so that it could dry. Damp clothing his heavier than dry clothing, so come on sun, come out where ever you are.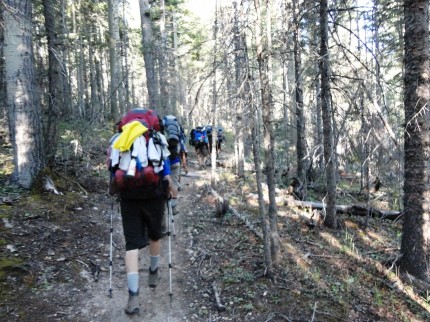 The climb up and out of Sawmill was a gentle climb with some switchbacks. It also offered a couple of good view points. Mt Baldy and a few of the other peaks can be seen behind us as the view is in a northerly direction.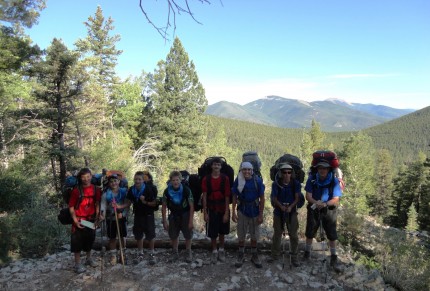 As we continued hiking up and around on our way to Cyphers Mine the views were great. There were lots of pine and fir trees. Of course we were at about 10,400 feet elevation.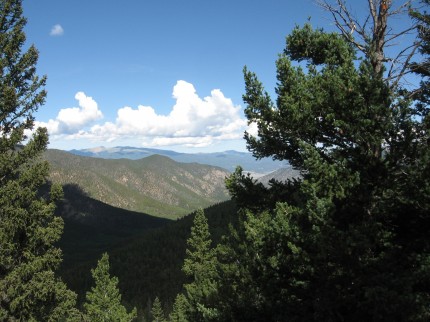 Soon enough we were starting to descend towards Cyphers Mine. We were happy that is was getting closer.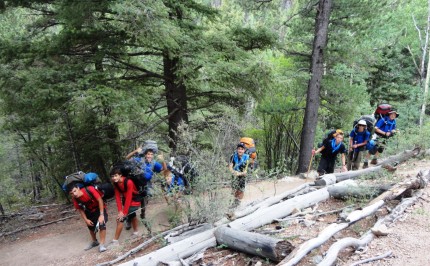 As we crossed the North Fork of the Cimmarroncito Creek, we passed the old Cypher cabin and were greeted by banjo music. As we made our way to the staff cabin of Cyphers Mine, we noticed that everyone looked like they were stuck in early 1910's mining camp clothing.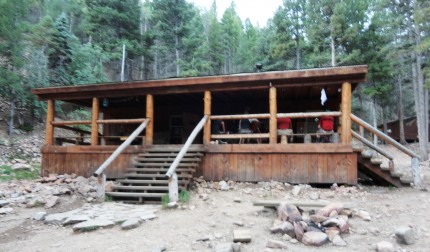 We sat down on the front porch and had our porch talk. We would quickly eat lunch and make our way to the forge. Upon arrival at the forge, they needed two helpers. Jacob was chosen to help demonstrate the tools of the trade. First, he had to look a little manlier and that could only come with a reasonable facsimile of facial hair. After that, we started with hammers.
After completing all the hammers, we then learned about tongs. There are a few different types of tongs as being demonstrated on Jacob's arms.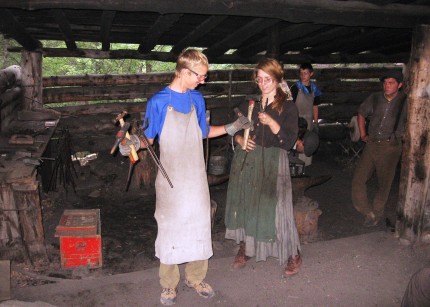 Of course, we needed to learn about other tools like the file, but there was no place to hang that.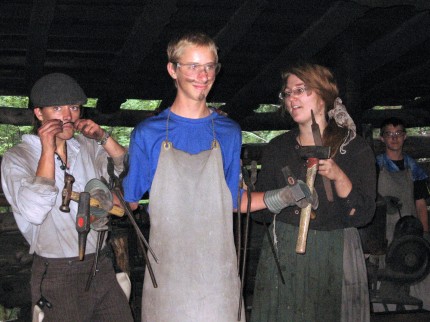 By then the real work started. The forge was heated up and Jacob began his work. He was pounding on a piece of metal. He had been warned that the anvil, affectionately named Amy Georgia had its consequences if you hit it on its face, or should I say, if you wacked Amy Georgia on the face. You would have to say something like, "Miss Amy Georgia, I am so sorry for whacking you on your beautiful, luscious, gorgeous, attractive, stunning, scrum-delicious face. I promise not to do it again. I will kiss you on the face and do so long enough for these gentlemen to get a picture." Of course everyone was laughing extremely hard by this point and then Jacob kissed the anvil, I mean, Miss Amy Georgia.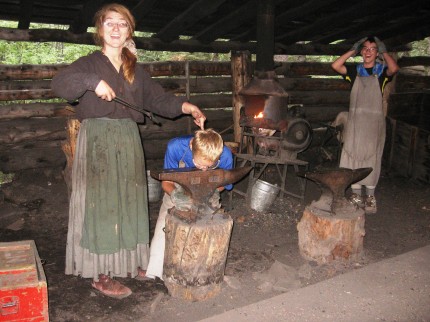 Once the kiss was over, the young lady wiped the anvil off and stated, "This must be one of your first kisses. You drooled all over Miss Amy Georgia's face." That was also another great laugh. As it turned out there was more than one young man that had to kiss Miss Amy Georgia on the beautiful, luscious, gorgeous, attractive, stunning, scrum-delicious face. Most all of them drooled as well; at least that is what we were told.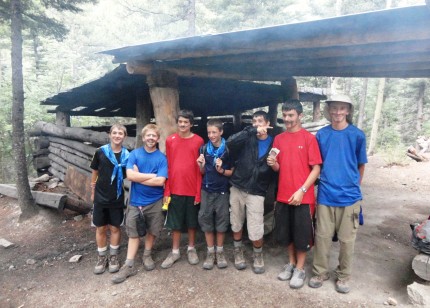 During the fun times, a dear wandered by. Then the baby deer, which was hungry wandered up to her. I have got to tell you, that was the roughest thing I have ever seen. That baby walked up, grabbed her mom by the teat and yanked mom around like there was no tomorrow. If that was not bad enough, up walked baby deer number two. It then seemed like mom had a tug-o-war going on below her and she was the rope. Ouch.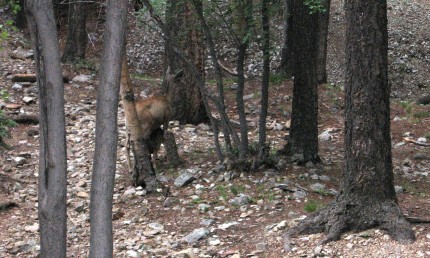 Then it was off to Contentions Mine. We had a little geology talk before going into the mine.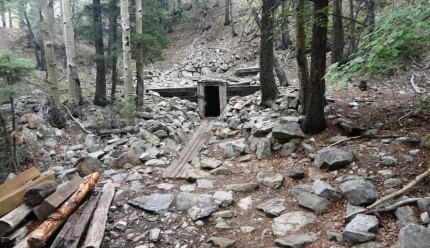 Then we were off into the mine. It was not a place for tall people.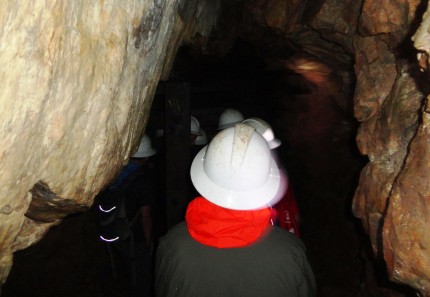 As we walked we went to close to the back of the mine. Our guide told us some stories. One was about the ghost of Cyper, how he had been seen now and then. He then had us turn off our lights.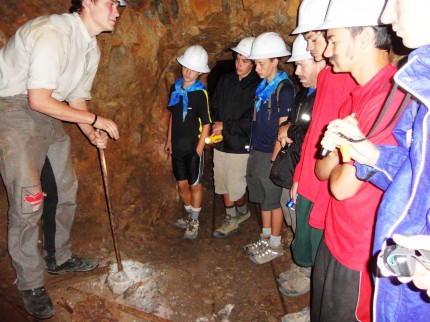 I have to tell you, it was dark, very dark. He then asked us to follow our crew leader out. We each put a hand on the shoulder of the person in front of us and walked out of the mine. Of course there was a big crashing sound when we were in the mine as we were walking out. The reason for the helmets is there are several low places. It is not the place a tall person wants to work.
We made it out and went back to where our packs were. Jacob did a little self portrait.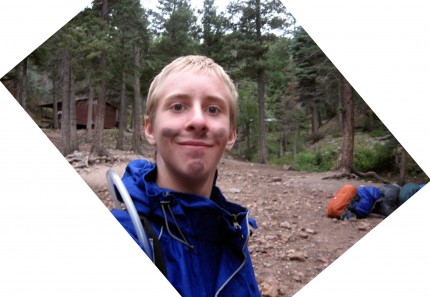 We got our pack on and headed out of Cyphers Mine.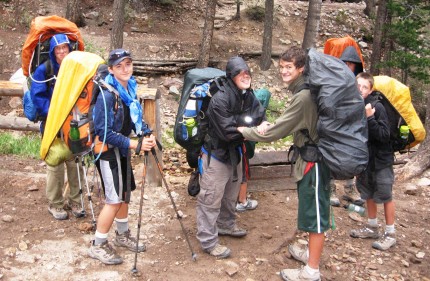 Of course we passed the staff red roof in on the way out of town.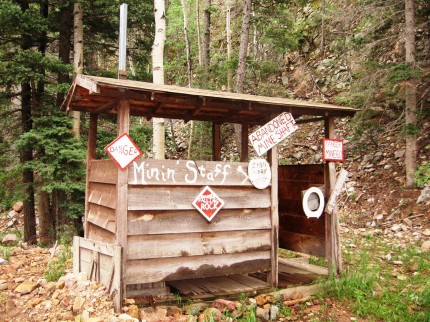 Soon enough we made our way down and around from the North Fork of the Cimmarroncito Creek to the Middle Fork of the Cimmarroncito Creek and to Lamberts Mine. The campsites were not large and it was a fairly damp place. We all sat around and relaxed while dinner was being made.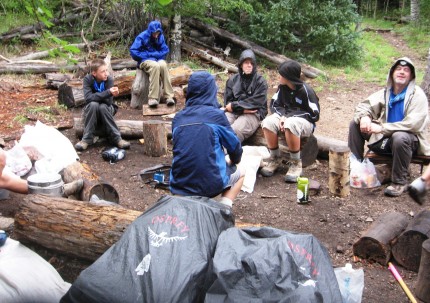 There was one first for us at Lamberts Mine, the white plastic "Pilot to Bombardier" latrine. One of the crew members thought it looked heavenly in its setting, a pure white glowing in the forest. You did have to walk between two Colorado blue spruces that stood about 15 feet tall to enter the forested area where the latrine sat.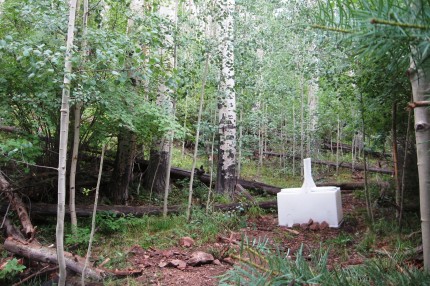 We got our tents place for the evening. There were not enough places to put them all together so we had to spit things a little.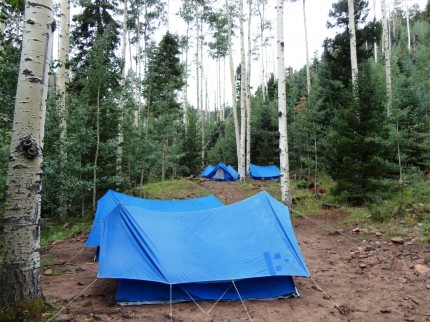 The final event of the evening was hanging the bear bags and doing thorn, roses and bud. The big rose for the day was the forge at Cyphers Mine.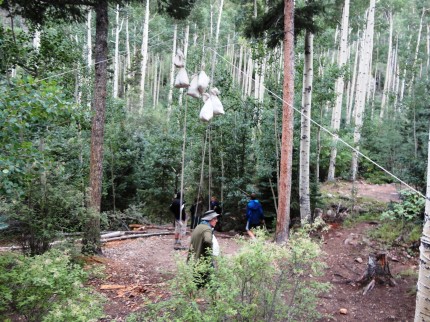 ---
related post