Today we started later than usual. I had a good night's sleep and slept in to 5:30. Breakfast was a little slow as well as getting ready for breakfast.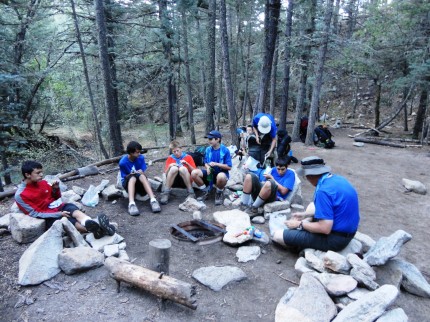 However, soon enough we were policing the campsite for any trash or trace. Overall, it did take us 2 hours to eat breakfast, pack and strike camp. Not a record, but it is not our slowest.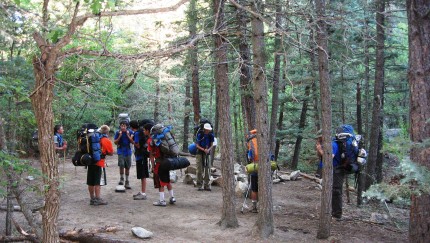 Soon enough we got on the trail. We stopped for the obvious things to stop for, the signs. There were several trails going in different directions. After checking the map we were on our way.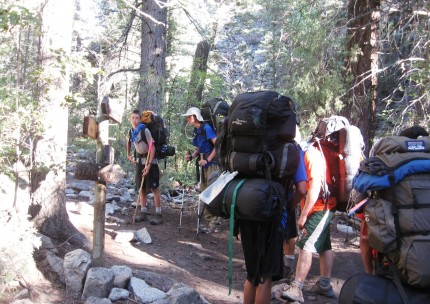 We started up Grouse Canyon. It was different than the dry canyons up north that we went through. There was a small stream that had a little water flowing through it. There was also a lot more vegetation.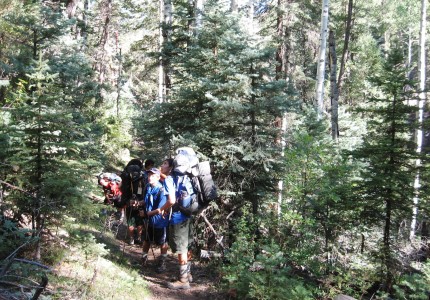 At times it was being in another place on the planet.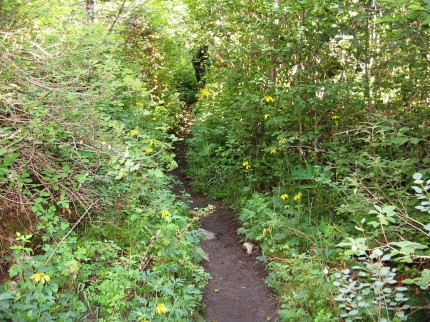 We soon enough came to another stop sign and started up Sawmill Canyon. This canyon was not as lush, but it had plenty of trees.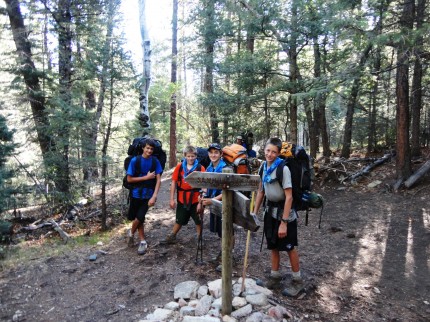 Along with trees or should I say flora it had fauna, four legged fauna, fauna with claws and teeth.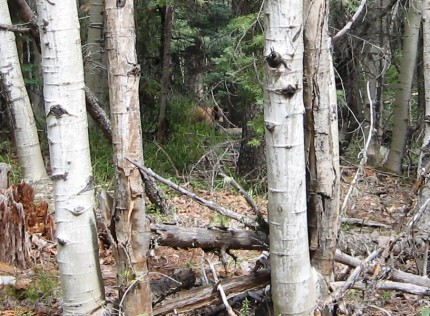 We looked at the bear, the bear looked at us and he meandered off. We continued our trek up Sawmill Canyon. We passed through Lower Sawmill Camp and headed up to Sawmill Camp. It was nice to leave the four legged fauna in a different camp.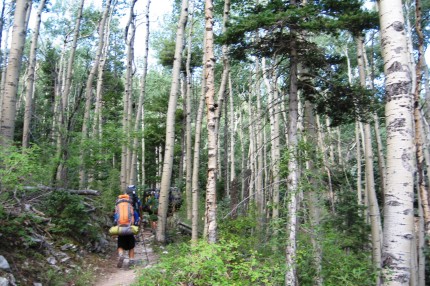 For the day we were going to climb over 1000 feet to about 9200. The trees also changed as we climbed. We saw less aspen and as we came to Sawmill, it was mostly pine and fir that we were seeing. It was nice to get there.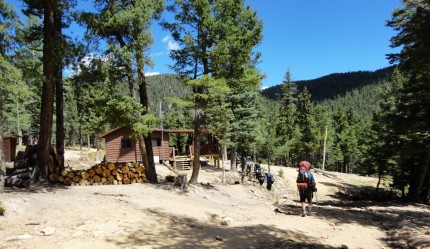 As per usual protocol, we had our porch talk at the staffed camp. I found a nice rocking chair to sit in.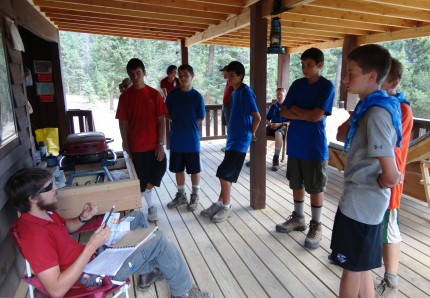 We received information on our program for the day. We would start at the reloading cabin for instruction.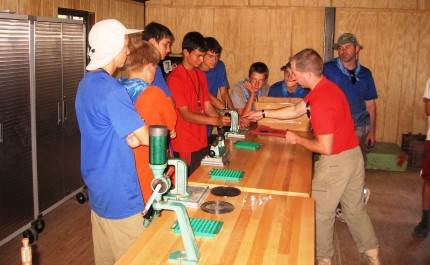 After instructions, the crew leader reloaded three cartridges.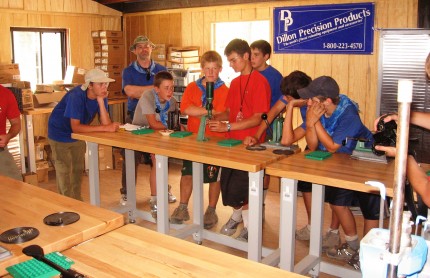 Then we all reloaded three cartridges. I wanted to reload a good fifty so I could shoot more, but there was not time.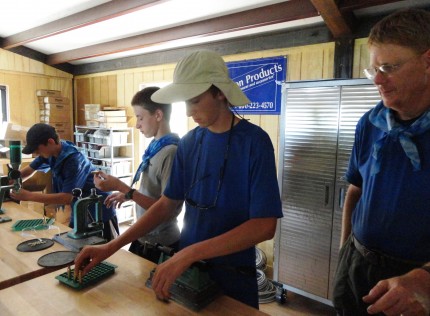 We then took a hike to the Sawmill Rifle Range. It had a nice covered shooting area as it was threatening to rain. We had a safety briefing like we did at Harlan. It was explained to us that we could bring a target, underwear, hat, bandana or something that we wanted to shoot. Our crew did not bring anything. It was also explained that if you put something out to shoot at, everyone could shoot at it.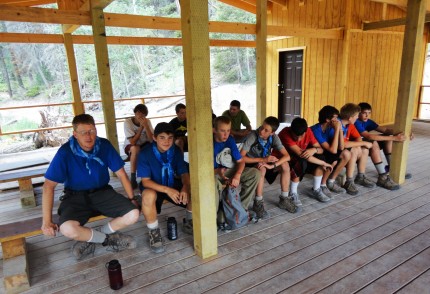 The boys had their chance to shoot. Jacob nailed some guys white hat a couple of times along with a few other things that had been put out.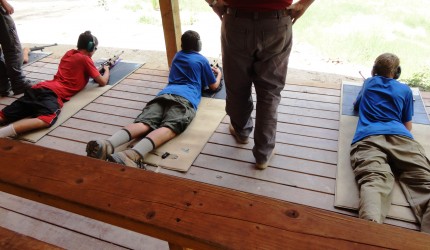 I wanted to shoot my hat, but after eight years, it is like a good friend that has been several places with me. I chose to throw all nine rounds into the white hat.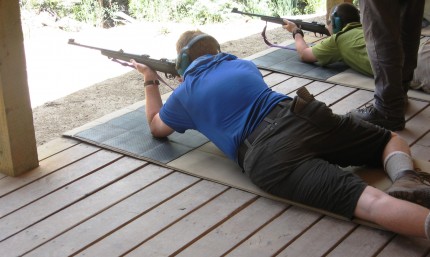 As if shooting was great, I have to tell you there is something that I looked forward to more than shooting, cold showers. After being on the trail for several days without a shower, I wanted to clean myself up and do some laundry.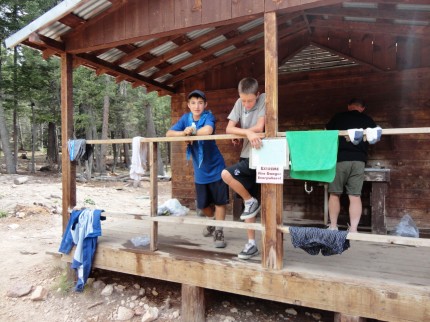 Soon enough it was back to camp. Dinner was being prepared and we could relax.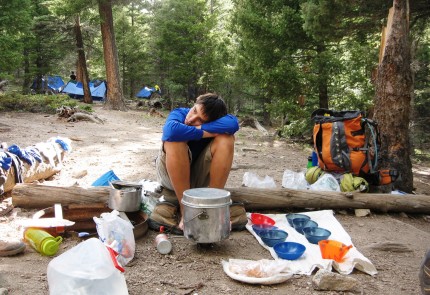 Well, we could relax after we hung our laundry out to dry. I was happy to see that there was a lot of laundry. Perhaps, the group would smell a little better.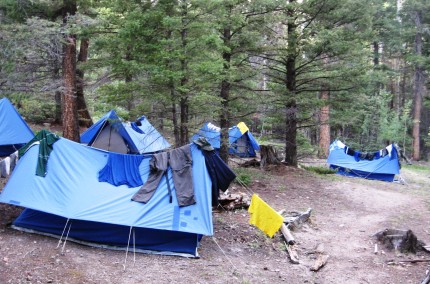 I had a little time to write in my journal as dinner was being prepared. That was until it started sprinkling. Ink, paper and water do not seem to mix very well.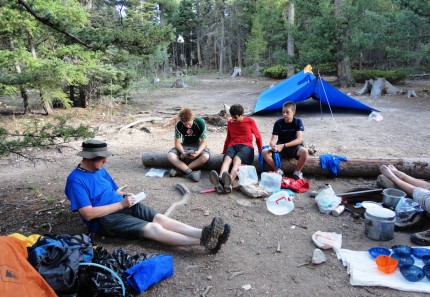 After dinner the adults left the youth in camp and went down to the staff cabin for the "coffee." They were a little bit unorganized as they had a small grease fire in the kitchen. The cookies finally came out. We sat on the porch and enjoyed the view. As it is, Sawmill is one of the few places that you can receive a radio signal. Every Wednesday evening at 8:00 they have the hour of blues. The week had been silent of music and here we were listening to blues and watching the sky as the sun set behind us. At one time you could see three rainbows in the sky and it rained toward the east.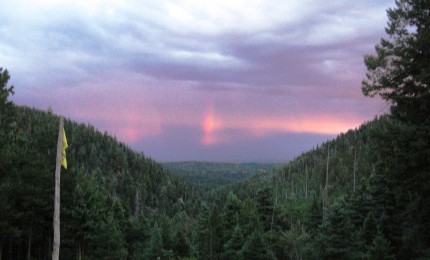 We climbed back up the hill to camp to find all well. We had our thorn, roses and bud as we reflected on the day. Overwhelmingly the rose of the day was the shower. We all needed a good night's sleep because tomorrow would be uphill in the morning to about 10400 and then down to about 9000 feet in about 13 miles.
---
related post