To get to the top of the Tooth of Time for the sunrise, we got up at 4:00 am. It was still a little windy and believe it or not, it was cool to cold.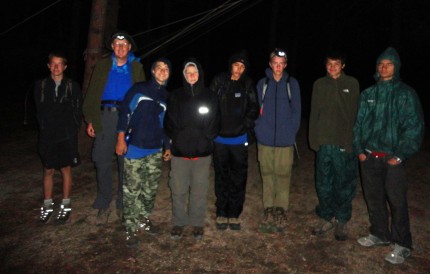 We hiked by flashlight until we got to the base to the Tooth of Time. There was just enough light to see our way as we climbed to the top. We had someone take our picture, which was difficult because of the low light level.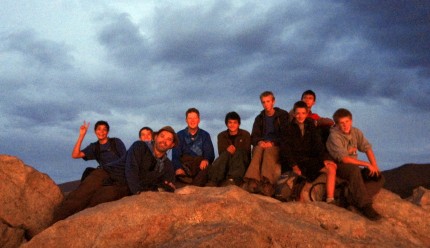 We then went a few feet away and got our picture taken with the sunrise behind us.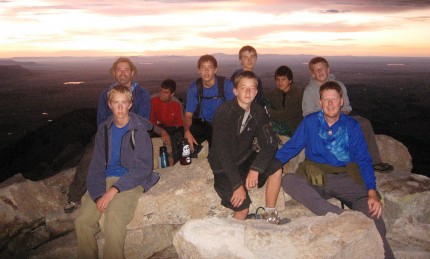 The sun then began to peak above the horizon.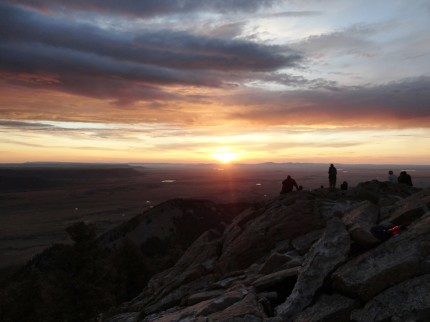 A sunrise in the world and a camera in Jacobs hand provide an opportunity for a self portrait in.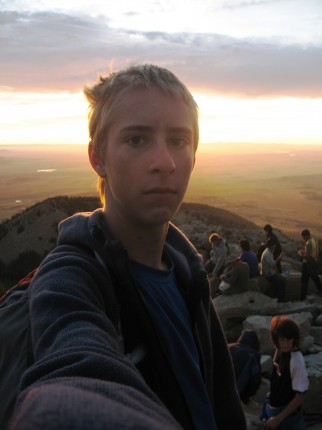 As the sun came out you could see more people spread across the Tooth of Time. Some were more relaxed than others.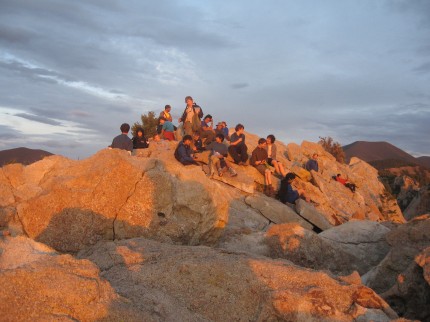 It also gave a chance for a father and son picture. How Jacob produced a small smile is a question that may never go answered.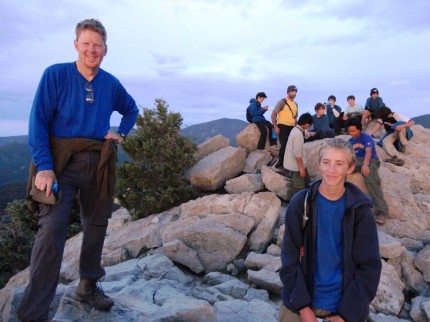 We headed back to camp to take down the tents and pack up for our last day on the trail. We moved fairly quickly, or should I say the youth were moving fairly quickly. Jacob had the camera and he documented the holdup.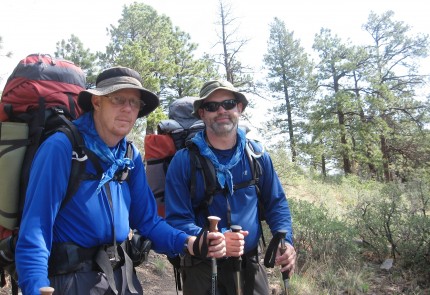 What was amazing about the trail is that you saw base camp and you walked. You walked more and base camp did not appear much closer. You kept walking and perhaps it was closer.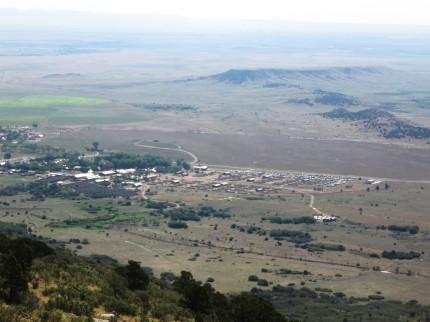 We finally got off the hill and made our way back to base camp. There was a big Welcome Back sign that we crossed under.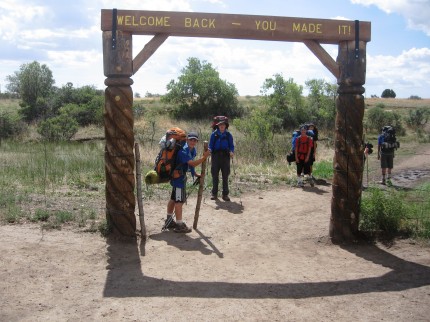 We then made our way back to the Welcome Center to be assigned out tents for the night. It was sure a good site, but it was nothing like the back country. What I would give for some trees, a meadow and a view from the tops of some mountains. Other than that, I was happy to be back.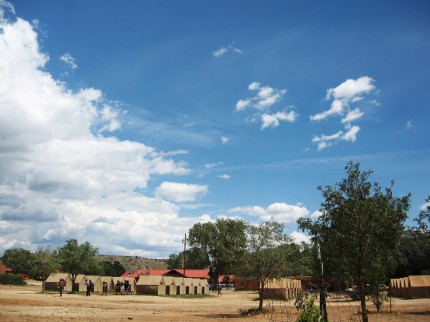 There was not a lot of time to return what we needed to. We got some things taken care of. One nice thing was, we were back in time for lunch. No crackers, no squeeze cheese, no energy snacks, just regular food, a pulled pork sandwich, chips and vegetables. Some of the boys had seconds. Perhaps a few had thirds.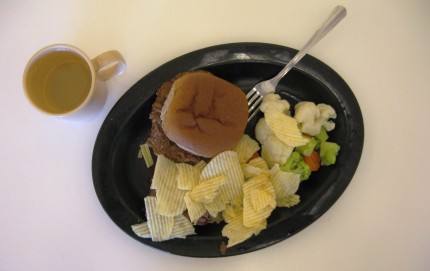 A view of the commissary with the flags would be appropriate.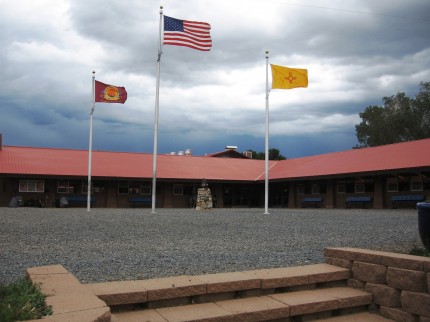 Next it was off to the showers. After that we got some laundry started and got it into the dryers. We also returned all our tents, bear bags and other gear that we were given. With a clean good smelling crew, where do you go? On a bus ride.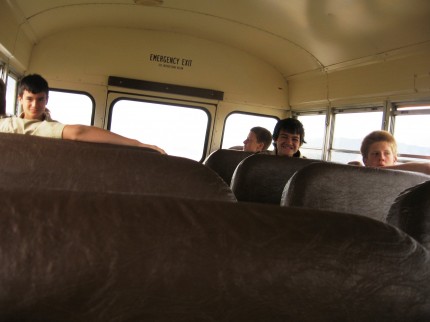 We took the bus into town. Our stop was the Cimarron Art Gallery. They had something we were looking for.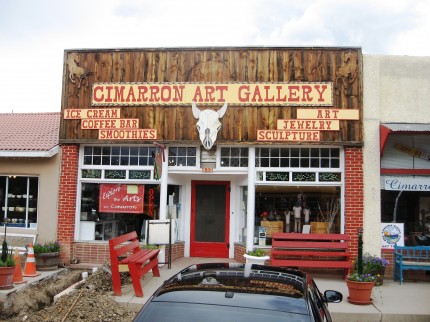 A soda fountain and a place for all of us to have a ice cream cone and a sarsaparilla.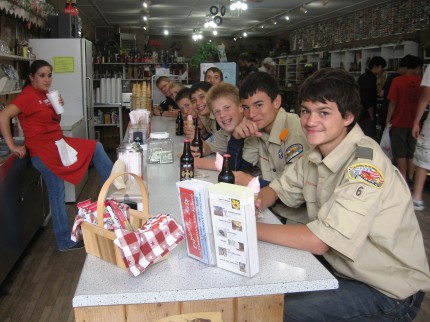 After eating ice cream and sarsaparilla, you just need to mix it up right.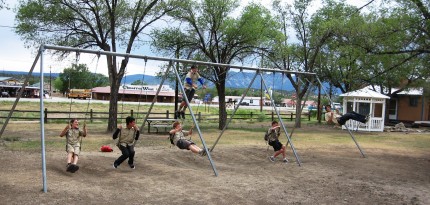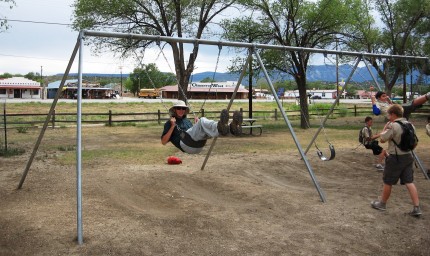 When we got back we stopped by the Welcome Center to get a picture in front of the Philmont Scout Ranch sign. They have to cut the boots down every day because the sign collects too many.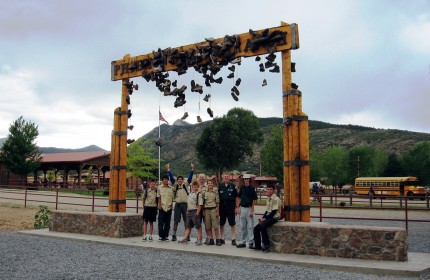 Next was dinner. There were plenty of smiles. Roast beef and roasted potatoes and carrots. There was also a piece of cake with the words, "We All Made It" printed on a flag in the cake.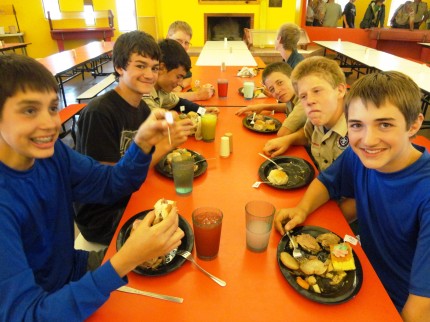 Then there was the closing campfire, which was good.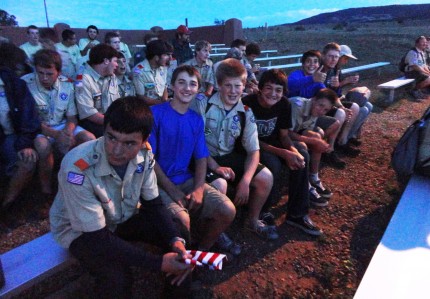 Then we made it back to our tent area for the last thorn, roses and bud. The most popular bus was – going home. There was also talk about wanting to stay because they enjoyed the time at Philmont so much. But they knew it was time to depart back to families and friends.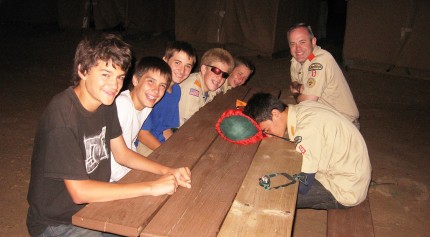 Soon enough, we were all in our tents awaiting the train ride home in the morning.
---
related post