Knowing we were going to climb up Shaefers Pass today, we wanted to get an early start. We were up, packed and policing the campground about 6:30 am.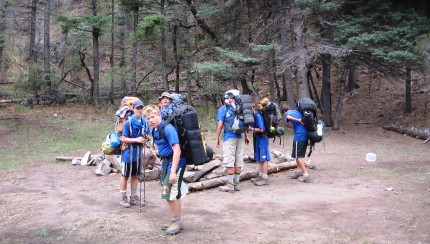 Soon we were on our way up the trail. We took a break for a where are you going, where have you been photo opportunity.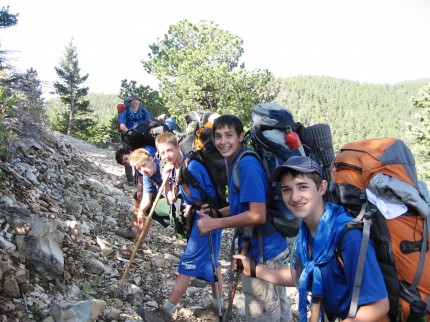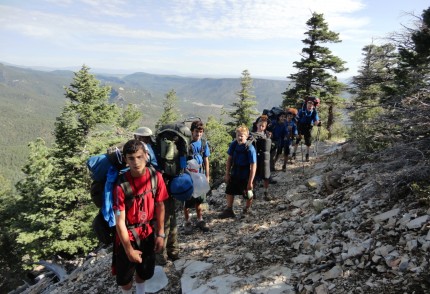 As we got to the top of Shaefers Pass, I saw the bear trap. I heard that Gatorade is used as the bait. When I mentioned that I saw the bear trap, all the boys said, where is it? I let them know that we passed it some time ago. It is part of that trail awareness thing.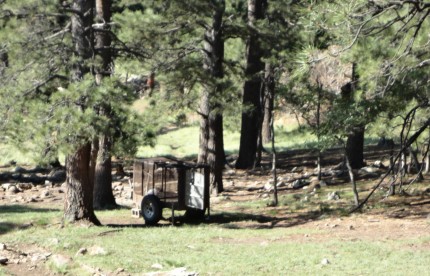 We continued hiking until we came to the spit for Shafers Peak. Now you just cannot pass an opportunity to bag a peak. A group of five went up while four of us watched the backpacks. We were told that no less than four should watch backpacks because one or two may not be considered a crowd by a bear wanting a bite to eat. When the first group got back we went up to the peak.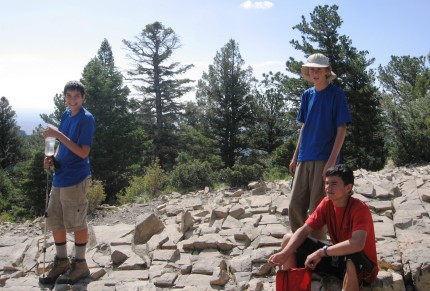 Of course we had to get the shameless stand on top of the pile of rocks pose in.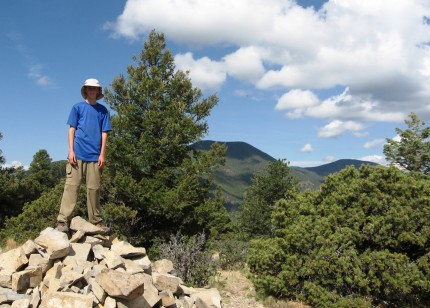 Is that not why you climb to the top of some peak?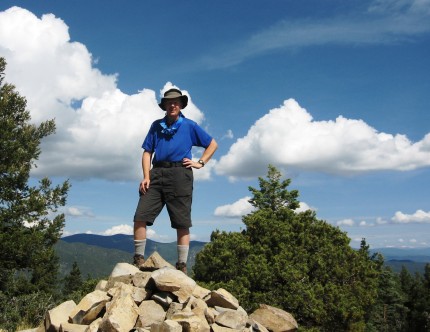 Soon enough we were back on the trail. Trail is used liberally. It seems that this trail across Tooth Ridge was just that, a trail across a rocky ridge. It was a little bit like a scramble across rocks. You could make out the trail; it was where there were some smaller rocks thrown into the mix.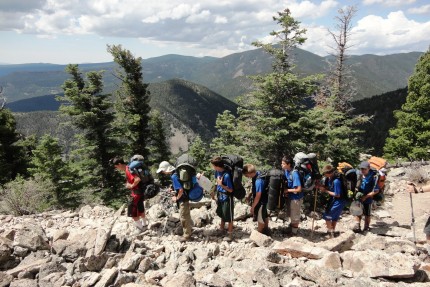 We did have a few spots of more normal trail.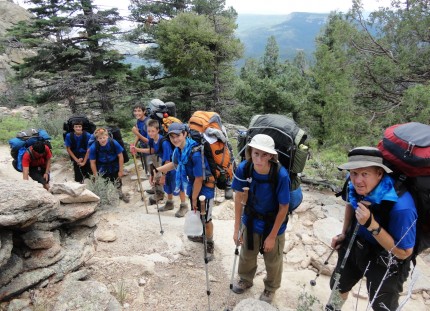 We started looking for some shade for lunch. There was not much shade, so we started looking for a view for a place to eat lunch. It was a nice place to stop for lunch. Some of the boys went for the good view area.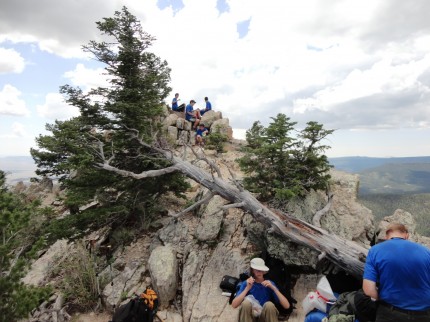 From the lunch spot we could get a side view of the Tooth of Time. The plan was to go to the Tooth this afternoon after dinner.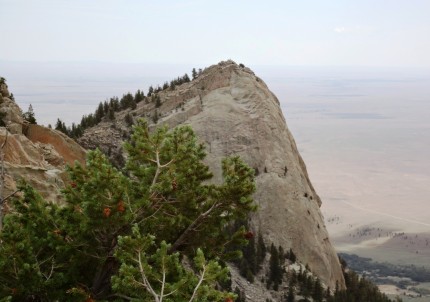 We arrived at camp and got things set up as usual.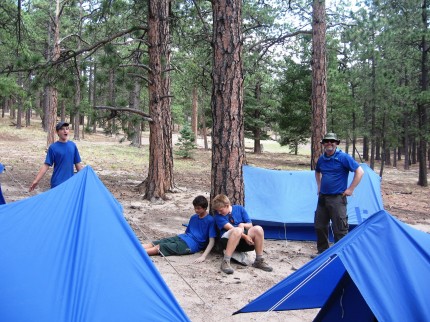 Everyone was pretty relaxed. We had a few staff members come by to tell us that the once unstaffed camp of Tooth of Time Ridge was the newest staff camp. They went over bear procedures. Apparently the night before there were eight bear sightings. Four were rewards where the bear found something. A couple of packs were destroyed. A couple of times the bear charged people. They do this fake charge where they charge and then veer off and go away. They really do not like humans. They just like their Gatorades and other goodies. The ranges were going to rove around camp all night long and keep their eye out for bears. They would also check our camp for bear procedures later in the evening.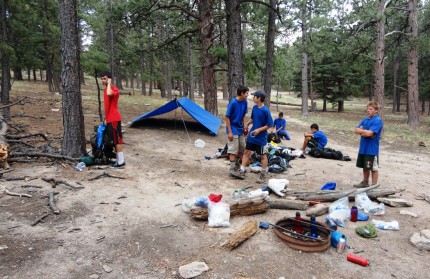 Dinner was started and the cook kept a careful eye on the pot.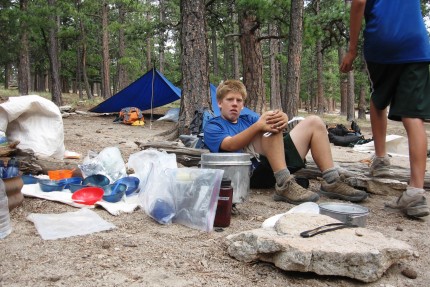 Some even had time to read the Philmont Field book.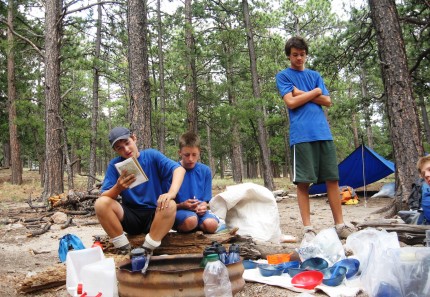 We cleaned up, gathered all our smellables and went to hang our bear bags so we could head off to the Tooth of Time.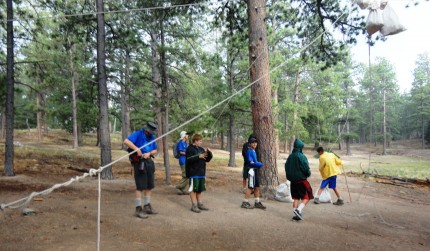 And just as we tied off the first rope, thunder and lightning from the direction of the upper right side of the picture and about a quarter of a mile away. Some eyes got big. Everyone scrambled to get 30 feet away from each other and crouched on the ground in the lightning position.
We were meeting another crew on the Tooth that left a half hour before we did. There was more lightning and thunder from further away. We made the decision to stay in camp and not go climbing up to a higher elevation under the circumstances.
Soon enough the rain came, the rain and hail along with more thunder and lightning.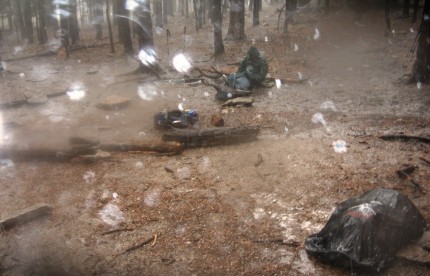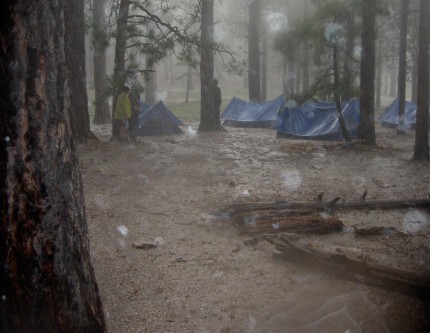 It was getting so bad it was time to put on the rain paints as I was getting so wet I may not ever dry out.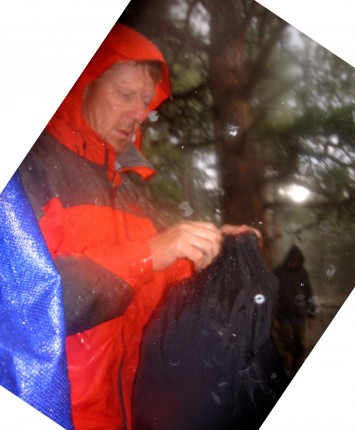 The hail did hurt as there was really nowhere to go. A couple of the kids were really shaken up by the thunder and lightning. After a little while they acclimated and could smile over the circumstances.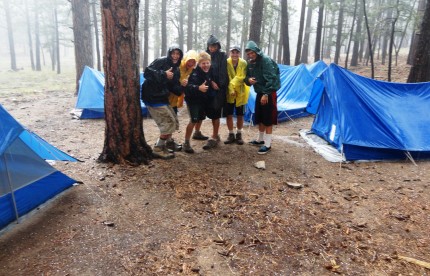 Things calmed down enough that the rain subsided. It was still a little breezy, but that helped to dry things out. It made it a good time for other things.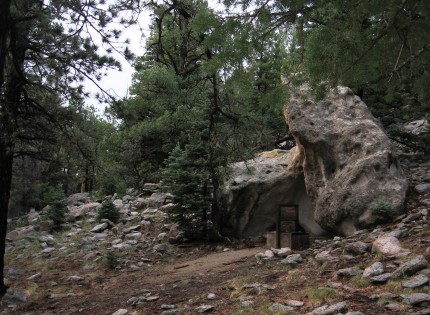 As the evening progressed, we had out thorn, roses and bud. One young man had consistently had the same thorn for the past nine evenings – rain. Tonight he announced, "My thorn is not the rain, it is the hail." Some of thought the afternoon storm with hail was nice. It brought more much needed moisture to the area.
During the night the wind blew. The rangers came by during the night as you could see their lights now and then. Perhaps I should say the wind really blew hard. We probably were blessed because it was blowing so hard I doubt a bear could hone in on anything smellable. Of course, I do not sleep well when the wind blows. I would prefer it being calm. Then again, it may be the excitement of this being our last night in the wilderness.
---
related post