This afternoon Jacob and I arrived back in Riverside after an overnight backpacking adventure. The adventure started Crew 6 at the trailhead for the South Fork Trail which leads into the San Gorgonio Wilderness. We started there with a group shot at about 4:30 PM
We then headed up the trail in a small cluster. One of the boys, who had been to dry lake a couple of weeks before was telling the other boys about the killer switchbacks. There were also little gold wrappers that kept showing up on the trail. A Ziploc bag was employed to capture the golden wrappers and it was to be carried by the person that was not following Leave No Trace principles by leaving a trace. It was passed between two boys that continually were dropping wrappers. In addition, if any of us had trash, we kindly placed it in the bag and handed it back to the keeper.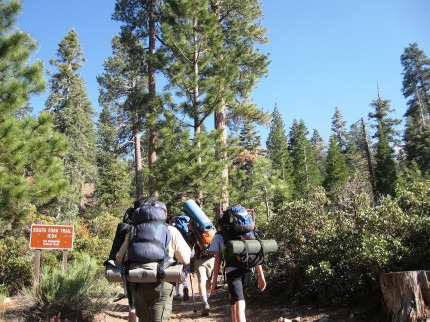 Some of the boys caught on that they needed to walk in single file when the trail narrowed and others did not. A couple of times a boy would find himself off to the side of the trail and would quickly merge back onto the trail. It was imperative to walk side by side to carry on a conversation. However, there were some that could walk in single file and still carry on a conversation even if it did not seem entirely natural.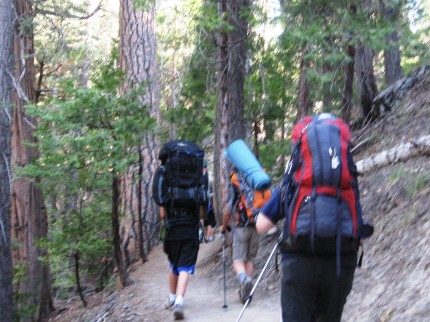 The beginning seemed to have a moderate elevation gain. Some areas were more difficult and other pleasant, if one could call walking uphill pleasant.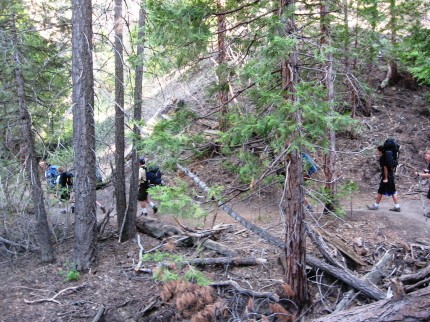 There was also an opportunity to see some nice flowers and scenery if you were looking. Of course the Crew Historian captured over 300 random snapshots.
The next stop was going to be where the wilderness boundary sign was. The youth that had been to Dry Lake a few weeks before assured all that the wilderness sign was just a little ways up the hill. Being there before, I thought differently. I just let the banter of, "Oh, it is just a little further" and "How much is a little further go back and forth. In the overall length of the trip, it was just a little bit. However, to those that had not been to Dry Lake, it was taking some time to get there. The proverbial old "Are we there yet" was alive and well.
Soon enough we made it to the wilderness sign for a much needed break.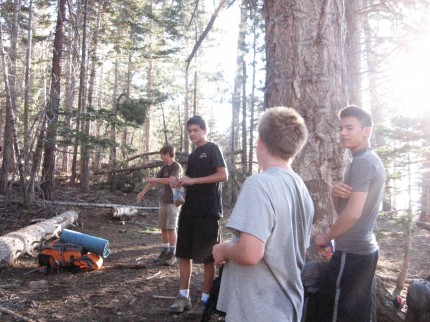 The adults were happy to take a break as well.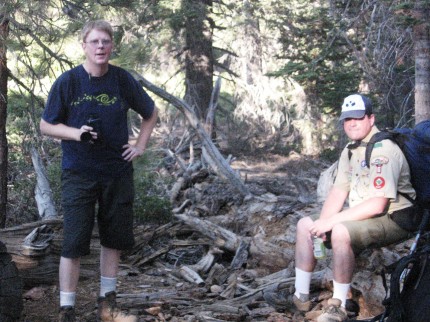 We had made it to Poop-Out Hill, but we still had further to go.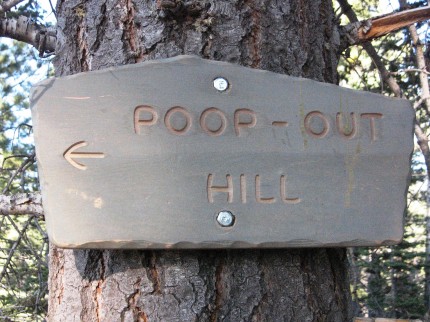 Soon enough, we were back on the trail. The shadows were getting longer and there was a cool breeze which felt great.
Everyone was wondering when we were going to get to those killer switchbacks. The answer was, after we cross all of the water.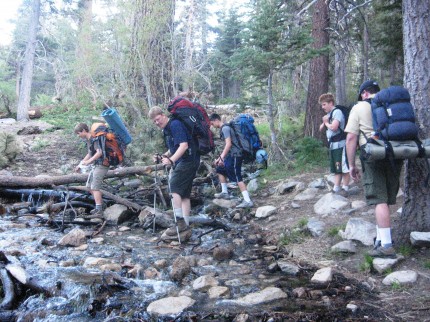 So between some of the water crossings, we took a break to eat some. We had traveled just over three miles and it was now 6:30. The pace of 1.5 miles an hour would put us at our destination after 9 PM. And we still had those switchbacks. Of course there was more water and more stream crossings.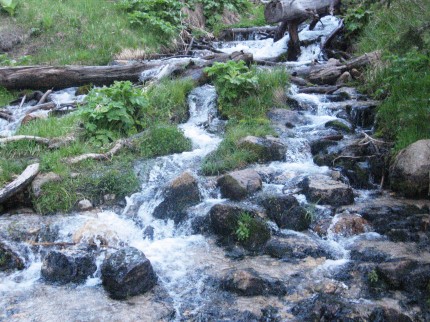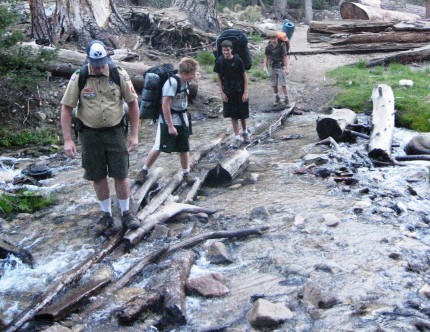 We were then on the switchbacks leading up the side of Grinnell Mountain.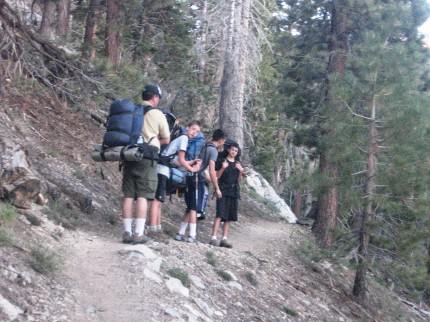 As we climbed up higher we could see that the sun was setting in the west as well as the last light painting the peaks of the San Gorgonio Wilderness south of us around 7:30 PM.
We continued on hiking after the sun went down. There was enough light that as we made it to Dry Lake, you could see the water and the mountains behind them. It was a beautiful sight. It was also amazing all you could see with the faint light. We found our campsite in total darkness, dropped out packs and began to make camp. Once the first light was turned on, we became fairly blind and could not see much other than what was lit up and the stars above. Water was pumped and dinner was made. Soon enough, the youth were headed to their tents.
Jacob and I sleep on a groundcloth and watched the stars. Jacob was looking for man made satellites in the sky. Around 11 PM we stopped talking and started thinking about sleep. The moon had come out and the night sky was not as brilliant.
The sky grew brighter. I rolled over and looked to see Jacob bright eyed in his sleeping bag. He had been watching the sunlight begin to touch the peaks of the mountains around us. We got up to go take pictures in the morning light of the mountains around us across Dry Lake. The moon was still up as the sun was shining brightly above Charlton and Little Charlton Peak.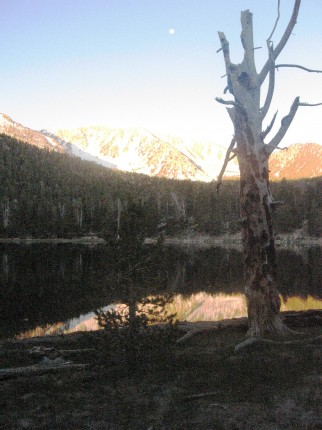 We also used a sign to hold the camera so that we could bet a picture. It is difficult to record the contrast between the beauty of the peaks with spots of snow and the serenity of the lake. We are in the lower right corner. As with most all of the pictures at gdpalmer, you can click on them to make them bigger.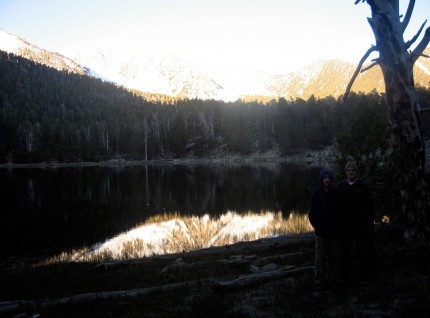 For a lake that dries up every year and some years really does not have any water in it, it was surprising to see a mother duck out with her young ducklings.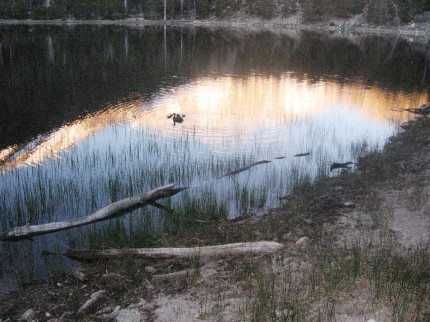 Of course, back at camp, everyone was still asleep.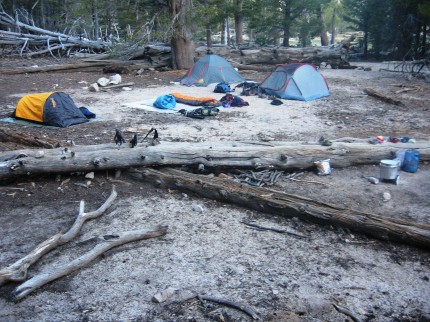 Jacob and I thought it would be a good use of time to travel to Lodgepole Springs to get more water for the crew.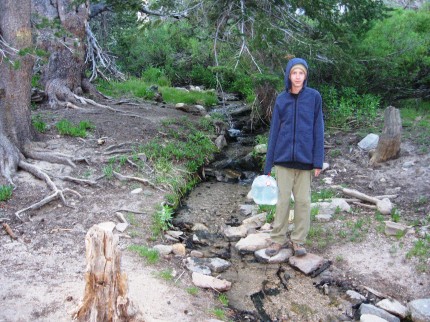 We arrived back at camp and soon enough the young men emerged to get breakfast going.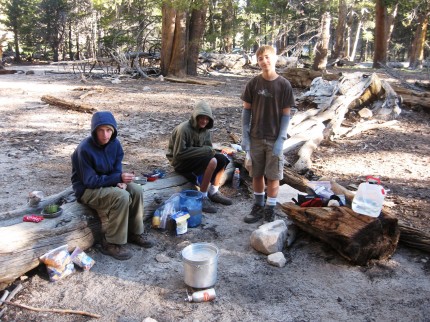 After breakfast we began to strike camp. As we left the area of the Lodgepole campground about 8:15 AM we took a group shot in front of some snow that was still sitting on the ground.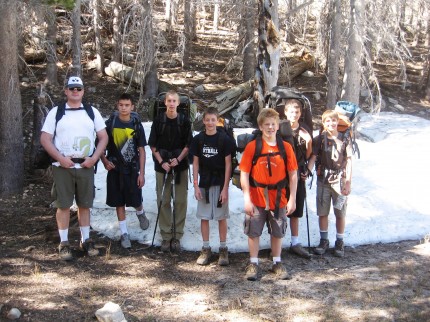 The trip back down was much quicker than going up. It only took us three hours before we were all back at the vehicles on in the trailhead parking lot.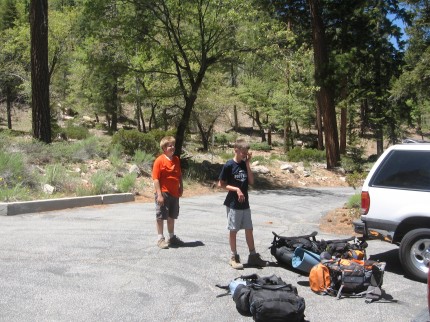 We leisurely drove down the mountain to receive the antidote for freeze dried backpacking food.
Of course, some made it in to the A&W with their boots on and other preferred stocking feet.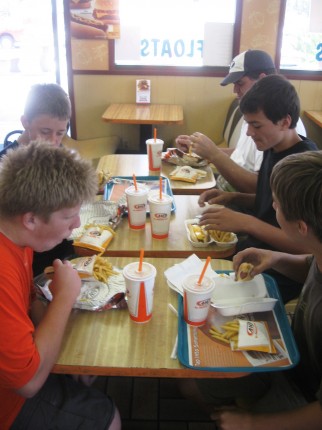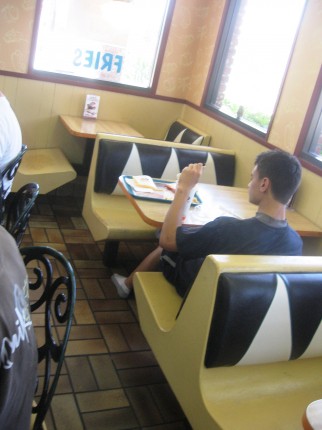 This was a great trip with much learning for the crew members that will be going to Philmont this summer. Some dropped thing on the trail, wrappers, water bottles and other things that should have been attached to their packs better. Some learned about the padded hip belt and how important that was, especially after having their pack fully supported on their shoulders for a few miles. We also learned to hike in a group. We were complimented by a ranger on how we kept together because there were other groups spread out on the trail. They also learned that they can hike, with backpacks on for over seven miles with over a 2000 foot elevation gain and have fun. I know that Jacob and I had a great time.
---
related post