Eric has taken up shaving with a safety razor. He likes the way they shave. He really likes the Merkur Futur. The 1963 Gillette Super Speed was not quite aggressive enough. He will use it if he needs to shave quickly and wants to be assured that he will not get a nick. Knowing that we had a new driver in the house and that there was an 18th birthday, a friend at work came bearing a few gifts for Eric. An Edwin Jagger carbon fiber handled badger hair brush, I Ikon Deluxe Open Comb Razor and a stick of Kells Original shaving soap.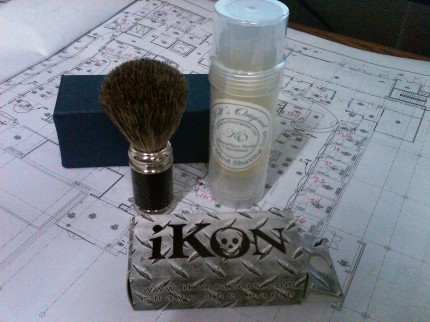 At first, Eric did not what to use the new brush because of it good looks. I explained that the first brush that I gave him was a boar hair brush. That they worked well. However, the boar hair did not have the same smoothness of the badger hair brush. He would then need to decide, Boar or Badger before he started his shave.
A few days later a collection of blades was added. There are more choices for Eric now that he is considered an adult. Personally, I like the Gillette 7 o'clock. We will have to wait and see what his favorite is.
---
related post