A good friend had four tickets to NASCAR and the boys wanted to go. I had never been to a NASCAR race and Eric said that you need to go at least once in your life. We got to the racetrack early enough to wander around and see the many exhibits. Every driver seemed to have a large retail trailer to sell their shirts, hats, jackets etc.
We then wandered over to the pit area which took a special pass which we had. We asked a few question of a couple of pit crews. Each crew had their pit command center with large TV's and a satellite dish. The biggest activity in the pits was the gluing of the lug-nuts on to the wheels with some latex weather stripping material that came in a tube. As the put the wheel on, the weather stripping stretches and holds the lug-nuts in place until the air gun tightens them. It was a good place to have a picture taken.
As a newbie at NASCAR I learned the the cars go round and round the track. Some people were into the race so intently it was intriguing. We had good seats just above the start-finish line. It was also in the shade for the entire rack. It was a good spot for Jacob to rest from the round and round action by just checking out for a while.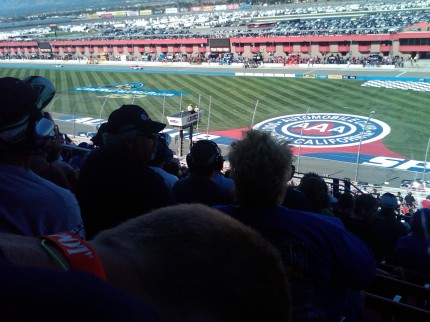 We all enjoined the race and made a safe trip back to Riverside
---
related post