You know you may be getting old when the baby turns 14. We had a party for him this weekend. After a dinner where he requested home made macaroni and cheese we were in for some activities. Janet wanted to do something different for Jacobs birthday so she purchased a pinata when she was at the store. Emily and I rigged a piece of pipe with an eye-bolt on the end to attach to the basket ball hoop. With a good rope we were ready to go.
Jacob, Emily and Eric each had two turns to avoid being attacked by the pinata and to try to whack it. They had a great time.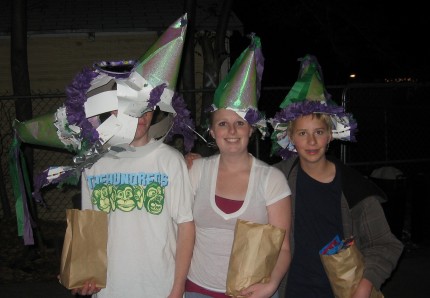 We then went in for cake and ice cream. Taking all the action shots of the pinata action drained the batteries in the camera so I got a quick shot of Jacob blowing out his candles with the BlackBerry.
So what do the children do after the candles were blown out? They grab the candles and lick the frosting off them. At least that is what Emily and Jacob do. Eric, who has not participated in this type of activity wanted to get into the action. He grabbed a candle and made sure it was laden with frosting. He proceded to take a bite on the frosting covered part of the candle. What was he thinking? Was frosting a "dipping sauce" for some edible product like carrots dipped in ranch dressing? We then heard, that is gross as he started spitting out chunks of candle wax. We all laughed. Nothing like getting candle wax stuck in your braces.
---
related post