Several weeks ago the boys in Crew 6 planned out things that they wanted to do. They like food and the topic of Gourmet Cooking came up. I am game, there is no reason why they should not learn a little about cooking and enjoy eating. The first meeting where they cooked they made hot wings. They turned out great. They said that they should have been hotter. Next time they will know that they need to kick it up a notch or two.
In the last meeting the boys wanted to make pizza. Pizza is simple and also can be very technical. I went on a shopping trip to obtain the ingredients that were requested as well as a few extras.
For great pizza, one needs a good foundation. I started with my favorite pizza dough recipe from The Complete Book of Pizza by Louise Love. She has many great recipes in her book.
One thing about any yeast dough, rise times are all relative. How active your yeast is, the temperature of the dough, the ambient air temperature. The dough rose quicker than I had estimated. I punched it down and estimated that it would rise again before we started rolling out the dough.
There is always a teaching moment to be found. I grabbed the generic Pizza Seasoning and packed it for the trip to where we meet. I also went to the garden and clipped some herbs. A little look, feel and smell or the fresh herbs as compared to what was dry and in the bottle is always helpful to a better understanding herbs and their use. To my surprise a couple of the boys could name a couple of them.
The boys started by forming their dough. They each had a 12 inch pizza tin. The adults had the 16 inch pizza tin. The boys went for a thicker crust and the adults went for that thin crust look.
We let the dough rest as we grated cheese and cut up the other items that were going to be used as toppings. We had several items for them to choose from: basil, garlic, hot Italian sausage, Italian brown mushrooms, Japanese eggplant, olives, onion, pepperoni and finally peppers of the green bell, red and jalapeno varieties.
Decorating the pizza or choosing what went on them was the next step. Eric used pepperoni to create a smiley face. He added some mushrooms, jalapeno and Japanese eggplant for other facial features. Michael went for a mounded look with lots of onion, garlic bell peppers and other goodies. We grated some fresh Parmesan cheese on top and the pies were ready for the oven.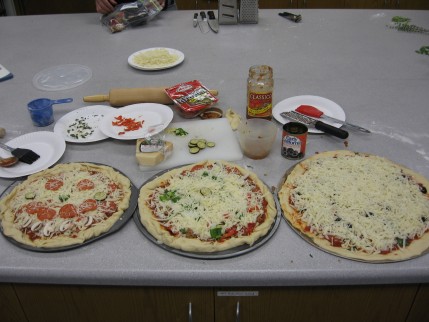 They came out wonderful and they were quickly eaten.
---
related post